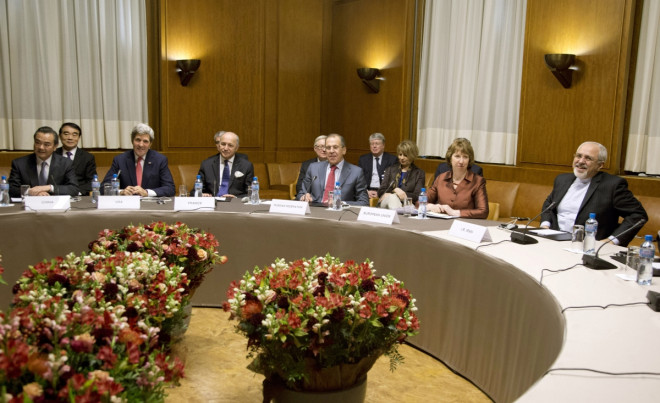 Iran is set to begin its first round of nuclear talks aimed at long-term commitment with the world's major powers in Vienna amid deep-running scepticism from both sides over the outcome.
The talks are intended to further capitalise on the interim deal struck by Tehran and six major nuclear powers – the US, Britain, China, France, Germany and Russia – in November last year.
The discussions are due to start at 11:00 local time (10:00 GMT) at the UN Vienna headquarters in the Austrian capital.
Iran's Foreign Minister Mohammad Javad Zarif, who is leading his country's delegation, has already arrived in Vienna and held initial discussions on the modalities of the talks with EU foreign policy chief Catherine Ashton, the prime architect of the negotiations.
Reiterating Tehran's earlier position, Zarif has said subsequent to his talks with Ashton that Iran will not give up its nuclear rights.
Zarif said: "We have an agenda that is set by the 'Joint Plan of Action'. We know what we are supposed to do. Our objective is to ensure that Iran's nuclear program will remain exclusively peaceful. This is a common objective that we agreed upon in Geneva."
"Now we are supposed to plan out how we are going to do that. We have a blueprint for that in the Joint Plan of Action. It sets out the areas that we need to discuss."
Meanwhile, on the eve of the talks, Iran's Supreme Leader Ayatollah Ali Khamenei expressed scepticism saying there will not be any credible outcome.
Khamenei, who wields the ultimate authority in Iranian affairs, said: "We will never submit to the Dominance front, although some try to depict a good face for US as a friend of humanity. Some Iranians think the nuclear issue will be solved by negotiations but I do not expect any outcome from the negotiations; however, I do not oppose the talks."
On the similar lines, a senior US administration official in Vienna also told reporters it is too early to expect any breakthrough.
The American diplomat said the discussions will be "probably as likely that we won't get an agreement as it is that we will" as the talks will be a "complicated, difficult and lengthy process".