More than 28 years since The Satanic Verses was first published, 40 state-run media outlets in Iran have declared a new fatwa on its author Salman Rushdie.
The Islamic Republic has put a $600,000 (£423,000, €542,000) bounty on the writer's head to mark the anniversary of the original fatwa issued on Rushdie by then-Supreme Leader Ruhollah Khomeini in 1989.
Shahin Gobadi of the National Council of Resistance of Iran (NCRI) said in a statement: "This once again clearly shows that terrorism is intertwined with the very existence of this regime as one of the pillars of its survival.
"The mere fact that even the so-called media in this regime allocate a budget for terror manifests that all of the regime's institutions are geared toward its ominous objectives. It's simply ludicrous to think that one can reach out to some parts of the ruling theocracy to bring about moderation."
Khomeini issued the fatwa in 1989, when he ordered Muslims to kill Rushdie, offering a $1m (£700,000, €900,000) bounty on his head, and forcing the writer to go into hiding amid fears for his safety.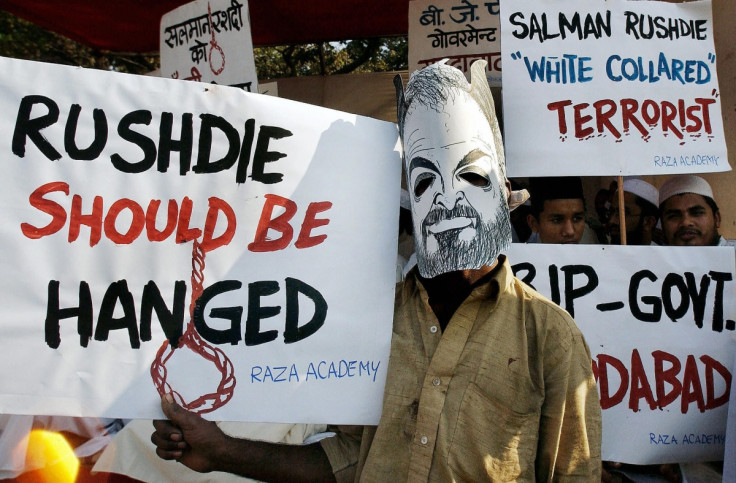 Although President Mohammad Khatami said in 1998 that the order to kill Rushdie was no longer supported by the Iranian government, the fatwa was never lifted – and Ayatollah Ali Khamenei said in 2005 and, more recently, in October 2015 that it remained in place. In 2012, the bounty was raised by an Iranian Ayatollah from $1m to $3.3m (£2m).
The Satanic Verses did indeed cause a backlash, and was banned in countries including India, Bangladesh, Sudan and South Africa, due to what many Muslims saw as its blasphemous description of Islam. In fact, following its release, there were threats made against shops stocking the book, as well as against the author himself.
However, the newly-issued fatwa comes from state-run media outlets, many of whom are believed to have made significant financial contributions to the bounty, which is now combined with the standing $3.3m bounty to stand at $3.9m (£2.7m, €3.4m ).