From Salman Rushdie to Dan Brown: A complete list of books that have been banned in India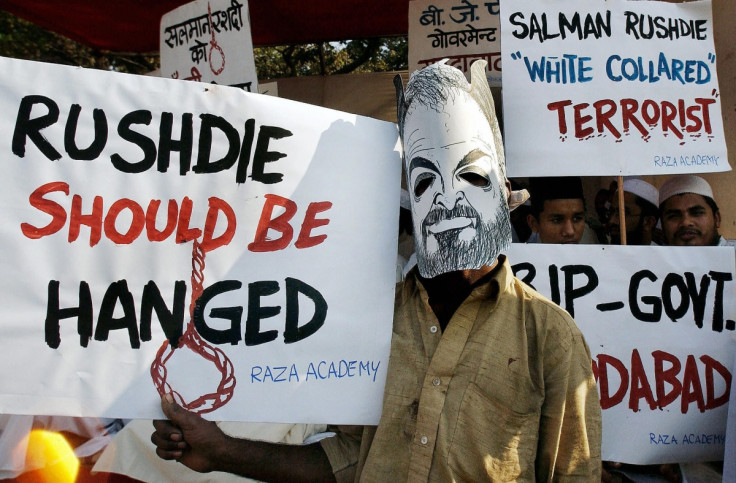 On 28 November, a former minister of India's Congress Party said that the ban on Salman Rushdie's The Satanic Verses was wrong. Rushdie's novel was banned in October 1998 because of concerns that it was offensive to Muslims.
Rushdie is not the only author to have a book banned in India. Over the years, many prominent writers have had their work taken off bookshelves in the subcontinent, with some being prevented from making it to the shelves in the first place. This is not a new problem for the country, with many of the bans dating back to the 1930s and '40s. Many of the bans were issued under British rule in India.
However, there have also been some more recent and more controversial book bans in the country, with many of them linked to causing religious offence. Barring Rushdie's Satanic Verses, a number of other novels have also been banned on the grounds of insulting Islam. In 1990, Ran Swarup's Understanding Islam Through Hadis also faced the wrath of the Muslim community. As well as the book being banned, publisher Sita Ram Goel was arrested. Despite criminal charges against him being dropped in 1997, the ban on the Hindi and English versions of the book remains in place.
But it was not just members of the Muslim community in India who protested against literature that they believed insulted their faith. Many books were also banned due to causing offence to the country's Hindu majority. As recently as 2014, Wendy Doniger's The Hindus: An Alternative History was recalled by publisher Penguin India after being deemed offensive to Hindus. Hindu campaign group Shiksha Bachao Andolan said the book contained heresies and focused on sex and eroticism. More than 10,000 people also signed a petition claiming that the novel had factual inaccuracies.
In 2006, the infamous Dan Brown novel The Da Vinci Code was banned in a small, Christian-majority state in east India. Nagaland's authorities also tried to have the film based on the novel banned in the country. They said that Christians had been severely hurt by the piece of work.
Finally, it wasn't just religious groups offended by novels over the years. Some books were banned simply for targeting prominent historical figures that many Indians hold close to their hearts. In 2009, Jaswant Singh's Jinnah: India, Partition, Independence was taken off the shelves in the state of Gujarat for making what were claimed to be defamatory references to India's first home minister, Vallabhbhai Patel. The ban was lifted shortly after, but the author was suspended from the Bhartiya Janata Party (BJP) for his work. He was previously India's finance minister and an external affairs minister.
In 2011, Gujarat once again banned a book, this time one that was deemed to be defamatory towards the father of India, Mahatma Gandhi. The state voted unanimously to ban Joseph Lelyveld's Great Soul: Mahatma Gandhi And His Struggle With India based on reviews that said it hinted that Gandhi had a homosexual attraction for another man. However, Lelyveld has insisted that he did not allege Gandhi was bisexual in his book and that the word "bisexual" did not appear anywhere.
Here is the complete list of nationwide book bans that have been implemented in India over the years (the list does not include regional bans imposed in only a few states):
Rangila Rasul by Anonymous (1924)
Hindu Heaven by Max Wylie (1934)
Angaray by Sajjad Zaheer, Ahmed Ali, Rashid Jahan and Mahmud-uz-zafar (1933)
The Face Of Mother India by Katherine Mayo (1936)
Old Soldier Sahib by Frank Richards (1936)
The Land Of The Lingam by Arthur Miles (1937)
Mysterious India by Moki Singh (1940)
The Scented Garden: Anthropology Of The Sex Life In The Levant by Bernhard Stern (1945)
Pakistan – Pasmanzarwa Peshmanzar by Hameed Anwar (1950)
Cease-Fire by Agha Babar (1950)
Khak Aur Khoon by Nusseim Hajazi (1950)
Marka-e-Somnath by Maulana Muhammad, Sadiq Hussain Sahab and Sadiq Siddiqui Sardanvi (1952)
Bhupat Singh by Kaluwank Ravatwank (1954)
What Has Religion Done For Mankind by Anonymous (1954)
Rama Retold by Aubrey Menen (1954)
Dark Urge by Robert W Taylor (1955)
Captive Kashmir by Aziz Beg (1958)
The Heart Of India by Alexander Campbell (1959)
The Lotus And The Robot by Arthur Koestler (1960)
Nine Hours To Rama by Stanley Wolpert (1962)
Nepal by Toni Hagen (1963)
Ayesha by Kurt Frischler (1963)
Unarmed Victory by Bertrand Russell (1963)
Lady Chatterley's Lover by DH Lawrence (1964)
An Area Of Darkness by VS Naipaul (1964)
The Jewel In The Lotus by Allen Edwardes (1968)
The Evolution Of The British Empire And Commonwealth From The American Revolution by Alfred LeRoy Burt (1969)
A Struggle Between Two Lines Over The Question Of How To Deal With US Imperialism by Hsiu-chu Fan (1969)
Man From Moscow by Greville Wynne (1970)
Early Islam by Desmond Stewart (1975)
Nehru: A Political Biography by Michael Edwards (1975)
India Independent by Charles Bettelheim (1976)
China's Foreign Relations Since 1949 by Alan Lawrence (1978)
The Reminiscence Of The Nehru Age by MO Mathai (1978)
Who Killed Gandhi by Lourenco de Salvador (1979)
The Price Of Power: Kissinger And Nixon In The White House by Seymour Hersh (1983)
Smash And Grab: Annexation Of Sikkim by Sunanda K Datta-Ray (1984)
The Satanic Verses by Salman Rushdie (1988)
Soft Target: How The Indian Intelligence Service Penetrated Canada by Zuhair Kashmeri and Brain McAndrew (1989)
Understanding Islam Through Hadis by Ram Swarup (1990)
The Moor's Last Singh by Salman Rushdie (1995)
The True Furqan by Al Saffee and Al Mahdee (2005)
Santsurya Tukaram by Anand Yadav (2014)
Loksakha Dnyaneshwar by Anand Yadav (2014)
The Hindus: An Alternative History by Wendy Doniger (2014)
© Copyright IBTimes 2023. All rights reserved.