Iranian TV host who promotes Islamic dress code under fire for 'drinking beer' without hijab
Presenter and actress Azadeh Namdari has been called out for her 'hypocrisy'.
An Iranian state television presenter is facing backlash on social media after a video and pictures emerged of her drinking what appears to be beer while she was also not wearing her hijab.
Islam forbids drinking alcohol. The use of the hijab – a garment that covers head and chest and is typically worn by Muslim women in public – is compulsory in the Republic of Iran.
Presenter and actress Azadeh Namdari is known in Iran for being a promoter of the Islamic dress code, including the use of the hijab and the chador, a full-length covering that leaves only the face exposed.
However, earlier in July, the images of the hijab-less woman appearing to be drinking beer while on holiday in Switzerland prompted some to take to social media and condemn her "hypocrisy".
Namdari justified her actions in a video posted on the Young Journalists' Club (YJC) news agency website.
"The host [Namdari] reacted to the release of these photos and said that [s]he was sitting in a green setting beside [her] convent," read a caption next to the video.
Namadari explained she was spending time with relatives and a "maharem" – close relatives of a woman, allowed to see her without her head covered – when her headscarf suddenly fell and a stranger took a video of her.
She did not refer to the fact she was spotted drinking what seemed to be an alcoholic beverage. However, her explanation seems to have triggered more backlash on social media.
Under the hashtag #Azadeh_Namdari, Twitter users commented on Namdari's behaviour, with some claiming she did not have any right to encourage people to follow rules she did not observe herself.
A tweet attributed to an account believed to be linked to pro-government cleric Abolfazl Najafi-Tehrani said: "The problem is not #Azadeh_Namdari or people like her. The problem is the ideology, culture and the system that forces individuals in society to have dual-behaviour for some reasons."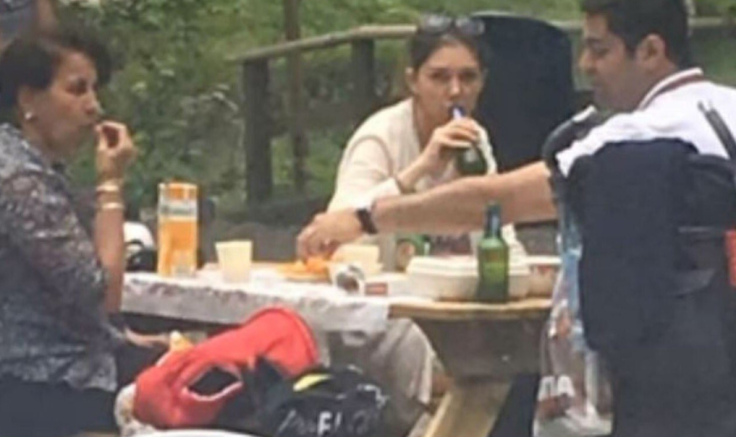 In 2014, Iranian women launched an online campaign, "My Stealthy Freedom", to protest against the forced use of the hijab in the country. Women were encouraged to post pictures of themselves without wearing the hijab.
A new social media campaign launched earlier this year sees women in Iran posting pictures of themselves wearing white garments or headscarves on Wednesday under the hashtag #whitewednesdays.
Both campaign were started by Iranian journalist Masoumeh Alinejad-Ghomi.
© Copyright IBTimes 2023. All rights reserved.