Women living in a remote part of western Iran challenged traditional gender roles by building a 5km road to an isolated village - in defiance of the men in their community.
The women decided to build the road to get access to the remote village of Gol-e Sorkh in Chaharmahal and Bakhtiari province when they discovered that doctors could not get through to deal with pregnancies over the winter.
The women presented their plan to the men in their community but were told "women are not able to do such things". They went ahead anyway and built the road independently.
One of the women in the group told Iranian daily newspaper Shahrvand that when they saw how difficult it was for people to travel to and from Gol-e Sorkh "we decided to get the job done".
"However, the men disagreed and told us women are not able to do such things. We insisted and finally they agreed," she said, as quoted by Iran Front Page.
The women spent more than 12 hours a day for a month building the road. Mina Moqaddam, who led the project, told Shahrvand: "The men were outside the village and the problems had increased. So, we decided to come here and help."
A woman named Fathi said the group met with a lot of resistance when they first started the work. "Even the women of the village were against us at the beginning. They wondered if we could do such a thing.
"They advised us to get back to the kitchen and do the chores but they gradually agreed and began to prepare food and tea for us," she said.
Hossein Jamshidi, the general manager of the province's roads department, said it was the first time that women in Iran had undertaken such a large-scale construction project.
"Such a move by women is exceptional," he said.
"This is not the first time that women have outpaced men and will not be the last. We do believe in women. We know that they can undertake tougher projects as well," he added.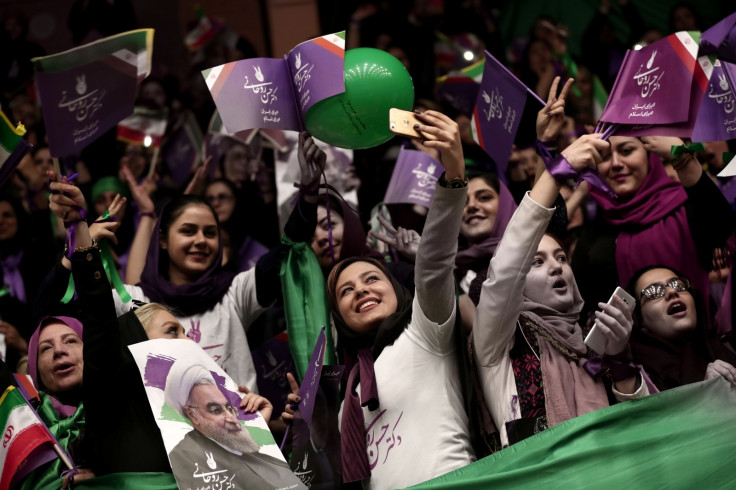 Holly Dagres, Middle East analyst and curator of The Iranist, told IBTimes UK: "This act by Iranian women in a small village like Gol-e-Sorkh challenges the existing gender roles in the rural area they live [in].
"It's a great story because in a small village, women with no background in heavy machinery took the jobs men would traditionally have."
She added that such a high level of independence and decision-making was unusual for women living in rural parts of Iran.
"At the same time, literacy is high in such areas compared to neighbouring countries and the new generation of Iranian women continue to push the envelope by aspiring to be more than just a housewife and mother," she said.
"Today, Iranian women can be taxi drivers and even truck drivers."
In recent weeks, protests by Iranian women have made headlines around the world. A video of an Iranian woman filmed waving a hijab from a pillar box in Tehran went viral. After she was reported missing, hundreds of people shared her picture on social media along with the hashtag #Where_is_She? demanding that Iranian officials release information on her whereabouts.
Human rights lawyer Nasrin Sotoudeh said that she had been arrested following the protest but revealed on Monday (29 January) that officials had released her.