At the end of December 2015, the US and Iraq proudly announced they had recaptured the city of Ramadi from Islamic State (Isis/Daesh) fighters. However, nearly a month later, the city has not been fully liberated, with pockets of IS fighters still holed up in up to two-thirds of the city's neighbourhoods in the east and north.
Baghdad and Washington touted Ramadi as a major success for Iraq's US-backed army in its campaign against IS, but the scorched-earth battlefield tactics used by both sides mean the prize is a shattered ruin. The city – once home to half a million people – has been largely reduced to rubble.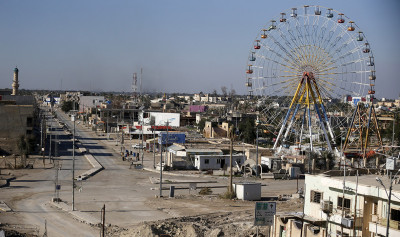 A UN report used satellite imagery to assess the devastation, concluding that more than 3,000 buildings have been damaged and nearly 1,500 destroyed. All told, more than 60% of Anbar's provincial capital has been destroyed by constant air bombardment and the scorched-earth practices of IS fighters in retreat, according to local estimates.
Residential areas have been flattened by air strikes, the space between each floor of buildings condensed into single layers of dust. Hundreds of other structures bear the marks of smaller, though still destructive, weaponry: mortars, rocket-propelled grenades, machine guns.
The burnt-out carcasses of large vehicles litter the roadside. An earth mover, a Humvee, a tank, an armoured personnel carrier. Some of them have been flipped on to their sides or roofs. They were torn apart by air strikes or packed with explosives and blown up by IS, soldiers say. Streets, shops and homes across the city centre are abandoned. Movement, when there is any, belongs to the security forces.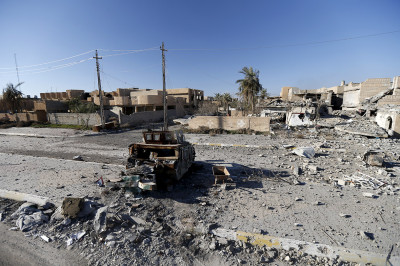 Hundreds of air strikes played a decisive role in recapturing much of the city. More than three weeks after the Iraqis declared victory in the biggest population centre reclaimed from IS, aerial bombardment can still be heard every few minutes. Snipers from Iraq's elite counterterrorism unit lie on their bellies on rooftops scanning the city for signs of movement.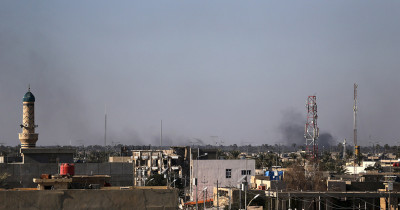 Residents have mostly fled and now live in refugee camps. Their homes are laced with bombs and booby traps set by IS, aimed to delay Iraqi security forces' advances and generate maximum destruction. May of the civilians who remained in the city were used as human shields by the jihadist group. As the militants were pushed further east, they loaded civilians into pick-up trucks and took them with them to other areas of the city.
While IS hides among civilians in the cities they control, this is the first time the coalition has seen militants moving families with them as they retreat. This manipulation of civilians raises concerns about upcoming battles in Mosul, the militants' northern stronghold which Prime Minister Haider al-Abadi has vowed to retake this year, and Fallujah, the longest-held militant city sitting at Baghdad's western gates. "Fallujah is full of families, not like Ramadi... And in Mosul more than 70% of the (two million) residents are still there," said General Fadel Barwari, a senior counterterrorism officer.
When Iraq's elite counterterrorism forces captured areas of Ramadi from retreating IS fighters, they rescued residents who had been hiding for around ten days, steering them to safety through streets mined with explosives.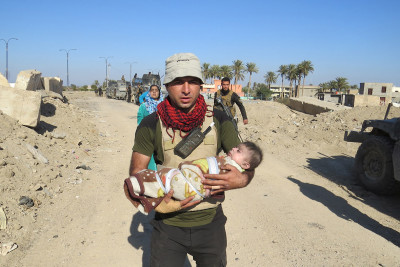 In previous fights for the city, government buildings, bridges and key highways bore the brunt of air strikes and heavy artillery. But during the most recent round of violence, air strikes targeted the largely residential areas where IS fighters were based. After the jihadist group overran Ramadi in May 2015, storming and then largely destroying the city's symbolically important central government complex, fighters quickly fanned out into the city's dense neighbourhoods. Using civilian homes as bases, IS turned living rooms into operations centres and bedrooms into barracks.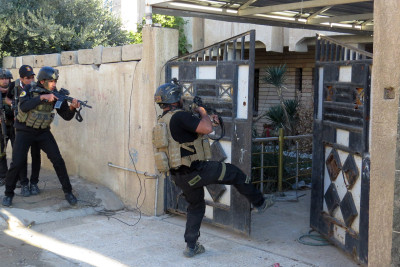 Iraq witnessed a sharp increase in civilian deaths following the fall of large swaths of territory to IS in the summer of 2014. Now despite a string of recent battlefield losses for IS, civilians in Iraq continue to die at a "staggering" rate, according to a new United Nations report. At least 18,802 civilians were killed and another 36,245 were wounded in Iraq between the start of 2014 and 31 October 2015. In just one six-month period between May and October last year, more than 10,000 civilians were killed.
However, the numbers are nowhere near the death tolls recorded during Iraq's bloody civil war. In 2006 alone more than 34,000 civilians were killed, according to UN data. The following year the Iraqi government refused to provide the UN with death toll statistics, stating that the government wanted to prevent the data from painting a negative image of the country. But civilian casualties since the rise of IS in Iraq are considerably higher than the preceding years of relative stability. In 2011, the number of civilian deaths due to violence was at its lowest since the civil war, with fewer than 2,800 killed.