A government office in Baghdad has been devastated by a suspected suicide bomb attack, in which at least 11 people died and 24 others wounded.
The attack took place at an interior ministry office in the city's Karada neighbourhood, which also houses a police station. Although protected by concrete blast walls, the building's entrance is vulnerable to suicide attacks.
Meanwhile another suicide bomber drove a military Humvee into a crowd of soldiers and Shi'ite militiamen near Tikrit, killing nine.
It is thought the suicide attacks were carried out by Sunni extremists, probably linked to Isis (now know as 'Islamic State'), which has been laying waste to huge areas of Iraq and Syria over recent months.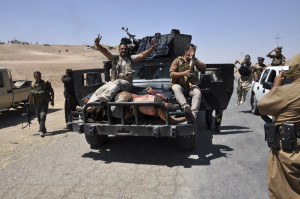 Many in Baghdad fear the existence of sleeper cells of Sunni extremists, who may strike in the capital as Islamic State draw closer.
Revenge attack theory
However, the two suicide attacks could also be retaliation for a Shi'ite machine-gun attack on a Sunni mosque in the village of Bani Wais in Diyala Province, in which up to 73 worshippers died.
Shi'ite militia sprayed worshippers with gunfire. YouTube footage showed bodies, including that of at least one child, strewn across the floor.
As Islamic State butchers Shi'ites across Iraq, there are fears of a descent into full-scale sectarian conflict between the two strands of Islam.
Islamic State forces have also attacked Yazidi, Christians and people of other faiths. The UN has warned that the town of Amerli, and its 20,000 population, are in imminent danger of being massacred by Islamic State militants, who have besieged the town for the last two months.
In the wake of the beheading of US journalist James Foley, apparently by a British militant, Home Secretary Theresa May has announced new plans to deal with the threat of jihadists returning from the Middle East and staging attacks here.
Stripping suspects of their citizenship and using Asbos are some of the measures proposed.