Al-Qaida renegade militants have reportedly closed in on the Iraqi capital of Baghdad.
Jihadist fighters with the Islamic State of Iraq and the Levant (Isis) remain in control of large swathes of land, including the cities of Mosul and Tikrit.
Government forces reportedly launched air raids against Isis positions in the two cities.
The Iraqi parliament has failed to hold a vote called by PM Nouri al-Maliki to declare a state of emergency.
US President Obama said he doesn't rule out any option in response to the crisis.
NATO Secretary-General Anders Fogh Rasmussen said he doesn't see a role for the alliance in Iraq.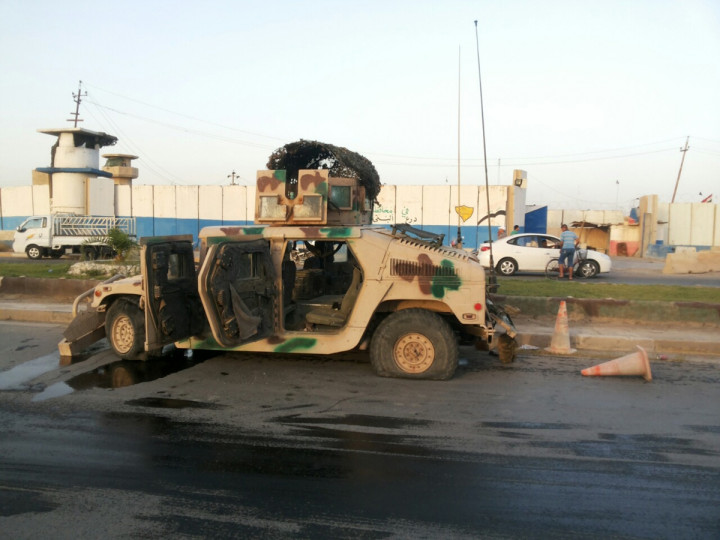 18.54 IBTimes UK live coverage of the crisis in Iraq ends here for today. Come back for more updates tomorrow 8.00 BST.
18.42 Germany has urged its citizens to immediately leave parts of Iraq, including Baghdad.
The Foreign Ministry says Germans should leave the governorates of Anbar, Ninevah and Salah al-Din and expressed concern about the situation in Diyala and Kirkuk governorates.
18.24 France's foreign minister urged the international community to take swift action in Iraq, in a series of tweets.
Laurent Fabius said he is very concerned by the situation in the country and the advance of Isis that, he wrote: "poses a serious threat to the stability of the region and puts into danger the unity and sovereignty of Iraq."
18.13 More from Obama, who spoke about Iraq following a White House meeting with Australian Prime Minister Tony Abbott.
The US president said Baghdad Iraq will need additional assistance to push back the insurgency and added he is watching the situation with concern and wants to ensure that jihadists do not get a foothold.
Obama added that part lack of trust between moderate Shia and Sunni leaders is [artially to blame for Iraq weak response to Isis's advance.
"We have not seen trust develop between moderate Shia and Sunni leaders within Iraq," Obama said, adding this "accounts for some of the weakness of the state".
17.51 President Barack Obama said he doesn't rule out anything for US responses to the crisis in Iraq.
"[We are] looking at all options in helping the Iraqi government face the growing insurgency," Obama was quoted as saying by Reuters.
17.10 An official in the Turkish prime minister's office said Ankara is negotiating the release of 80 Turkish nationals that have been taken hostage by Isis in Mosul.
Turkish officials are said to be talking directly with the Jihadist militants in the Iraqi city. The captives include 49 people seized in the Turkish consulate.
16.08 There are reports that Isis has discussed the possibility of extending the group's control beyond Syria and Iraq. One of the ideas is focusing Isis's efforts on Jordan, where other Islamist movements have a significant presence. Jordanian political analyst Oraib al-Rantawi considers the jihadi threat imminent:
"We in Jordan cannot afford the luxury of just waiting and monitoring. The danger is getting closer to our bedrooms. It has become a strategic danger; it is no longer a security threat from groups or cells. We must start thinking outside the box. The time has come to increase coordination and cooperation with the regimes in Baghdad and Damascus to contain the crawling of extremism and terrorism."

Isis see Jordan's Western-backed King Abdullah as an enemy and in a video posted on YouTube they threatened to "slaughter" him. Some jihadis who appear in the video were Jordanian citizens who tore up their passports in front of the camera.

15.50 Iraq has launched a campaign of airstrikes on Islamic State of Iraq and al-Shams (Isis) positions in Mosul following the capture of the city. Read more here.
15.34 Here's an interesting assessment on the Iraqi crisis by Ali Soufan group:
A great deal depends on what the Iraqi army does in the next few days in terms of keeping ISIS and band-wagon groups like JRTN away from Baghdad. Just as there is little probability ISIS will remain in control of Mosul, there is little probability of ISIS taking over the Shi'a-dominated capital. But, the finer point is that ISIS has released over 2,000 prisoners from jails in Mosul, captured an unknown but likely large number of modern weapons, and seized an unknown but likely very substantial amount—some reports indicate over $400 million—of money from banks. If ISIS can threaten the capital, however briefly, it will provide the group with something as powerful as weapons and money: momentum and a sense, even if fleeting, of inevitability.

15.25 In this photo some volunteers who have joined the Iraqi Army to fight against Isis are depicted as they chant slogans travelling on an army truck, in Baghdad.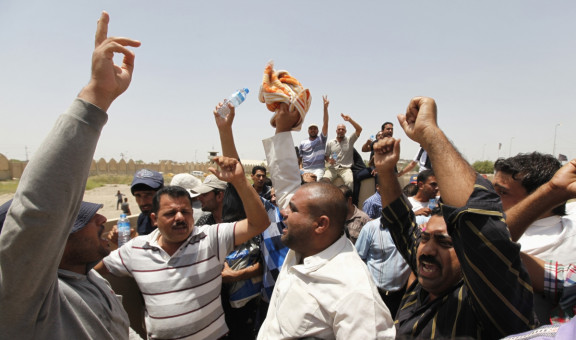 14.35 Iraqi state television is reporting that the air force is bombing insurgent positions in and around the northern city of Mosul, according to Reuters.

14.28 Isis militants have allegedly destroyed the border crossing between Iraq and Syria, according to Neil Doyle, journalist and author, who tweeted:
14.20 Former House speaker and presidential candidate Newt Gingrich tweeted:
14.15 NATO Secretary-General Anders Fogh Rasmussen suggested the alliance will not get involved in Iraq.
"I don't see a role for NATO in Iraq, but of course we follow the situation closely and urge all parties involved to stop the violence," Rasmussen said.
Rasmussen condemned the violence and urged Isis to release all hostages.
"We urge the hostage takers to release the hostages immediately. Nothing can justify this criminal act," he said.
14.04 Iraq's Oil Minister Abdul Kareem Luaibi said that the country's biggest oil refinery remains under government control. Read more here.
13.58 Reuters reports that hundreds of Iraqi police have been taken prisoner in the city of Tikrit.
This YouTube video purportedly shows a long line of people detained by Isis in the city, marching with their hands behind their heads.
The video claims they are Iraqi soldiers.
13.36 This video uploaded on YouTube purportedly shows celebrations for the fall of Mosul in Syria. The narrator is an Isis fighter who has a marked British accent.
Here you can read more about Britons fighting in Syria:
Syira Young 'Gangsters' Flock to Fight and Die in British Brigade of Jihadists
13.32 Iran's president Hassan Rohani said Tehran "will not tolerate" Isis's "terrorist violence" Iran's Irinn TV reported.
13.21 Earlier this week, Isis insurgents who captured Iraq's second city of Mosul seized US-supplied Humvees and were transporting them across the border into war-torn Syria.
Journalist Jenan Moussa tweeted:
13.13 An official with the Kurdish Iraqi Peshmerga forces said that the Kurds in Kirkuk have moved to protect an air base and other sites, but denied reports that the whole city was under peshmerga control.
"We decided to move on and control the air base and some positions near it because we do not want these places with the weapons inside them to fall into the hands of the insurgents," said Brig. Halogard Hikmat.
13.04 In this photo, Kurdish Iraqi Peshmerga forces are seen as they deploy their troops and armoured vehicles on the outskirts of Kirkuk.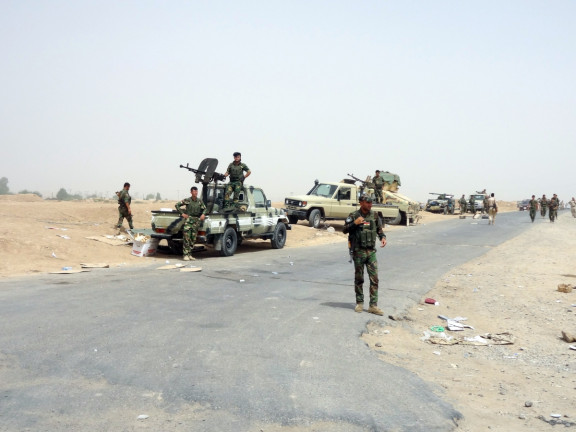 13.00 Samarra is believed to be the birthplace of Isis commander Abu Bakr al-Baghdadi, whose real name is said to be Awwad Ibrahim Ali al-Badri al-Samarrai.
12.52 There are reports that Isis fighters have surrounded the city of Samarra, in the Salah ad-Din Governorate, 125km north of Baghdad.
12.50 Russian foreign minister Sergey Lavrov said:
The events that are taking place in Iraq are an illustration of a complete failure of the venture started by the US and the UK that allowed it to spiral out of control completely.

The unity of Iraq has been called into question. The rampant terrorism is taking place due to the fact that the occupation troops didn't pay any attention to the interior political processes, didn't help the national dialogue, and only pursued their own interests."
12.33 Britain has ruled out sending troops to Iraq.
"Britain won't be getting involved militarily," UK Foreign Secretary William Hague told the BBC.
12.31 A parliamentary session called by Iraqi PM Maliki to declare a state of emergency has been postponed due to lack of quorum.
Government officials told AFP that only 128 of 325 MPs attended the session. The session has been adjourned.
12.27 Al Arabiya is reporting that a Kurdish minister has survived a bomb blast in Iraq's northern city of Kirkuk.
Earlier, Kurdish fighters said they were in full control of the city after army fled.
12.19 Isis chief Abu Bakr al-Baghdadi is seen in a wanted poster by the US State Department.
Washington has placed a $10m (£6m) bounty on his head.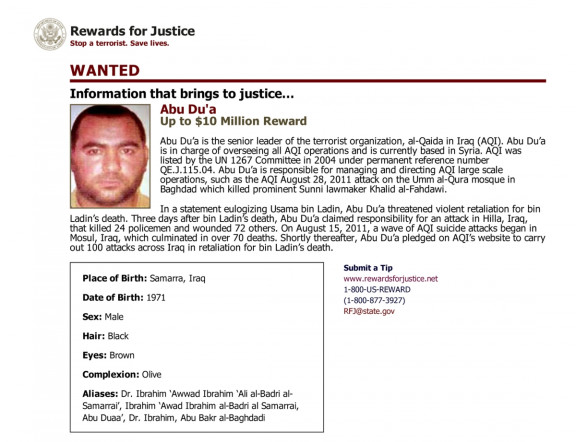 12.17 Nadim Houry, Human Rights Watch deputy director for Middle East/North Africa, tweets:
12.01 A former top military commander and vice president in the Hussein government, Izzat Ibrahim al-Douri, has reportedly joined forces with Isis.
His aim: to overthrow the Shiite-majority government of prime minister Nouri al-Maliki.
11.50 Iraqi Kurdish fighters claim they have taken full control of the city of Kirkuk after the country's army fled Islamic State of Iraq and al-Shams (Isis) insurgents.
"The whole of Kirkuk has fallen into the hands of Peshmerga," said Jabbar Yawar, a Peshmerga spokesman, referring to the Kurdish forces.
Read more here.
Iraq's Oil Minister Abdul Kareem Luaibi said that the country's biggest oil refinery remains under government control. Read more here.