Iraq Crisis: Obama Considers Air Strikes to Target Isis and 'Break Momentum'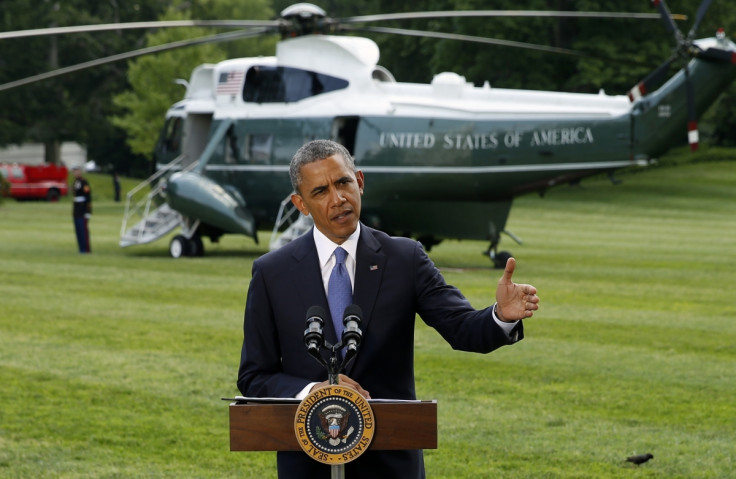 As the insurgency by the Islamic State of Iraq and the Levant (Isis) escalates in Iraq and Syria, US President Barack Obama is considering a range of options to help Iraq combat the insurgents.
The Sunni rebels have seized several cities, including Iraq's second largest city Mosul, displacing hundreds of thousands of people.
Reports emerged of violence on unarmed militants by Isis, who sparked further outcry by posting on Twitter the image of a beheaded police officer.
Following the uprising, which started on Monday with the seizure of Mosul, Iraq's government appealed to the US to help fight the militants who want to overthrow the current government.
Obama said in a statement on Friday that Washington was considering various options, but that a military intervention was excluded.
Other options include air strikes and the use of drones.
A US official told CNN that the US is planning to move the aircraft carrier George HW Bush into the Persian Gulf to provide Obama with options for possible air strikes.
Lt Gen David Deptula, who served as the Air Force's first deputy chief of staff for intelligence, told the Daily Beast that any strikes, if ordered, could begin almost immediately.
"There are a variety of means to do this, whether you are talking about long-range, high-payload aircraft or smaller aircraft," he said. "With the requisite intelligence information you can start again in 24 hours."
Pentagon press secretary Rear Admiral John Kirby told reporters: "There is a near-term objective here to try to help Iraq break this momentum."
He refused to give further details.
Obama is to decide about a possible intervention in Iraq within days.
He said, however, that Iraq has to demonstrate the will to reunite a divided country.
"Given the very difficult history that we've seen in Iraq ... Various military actions by the United States, by any outside nation are not going to solve those problems in the long-term," he said.
© Copyright IBTimes 2023. All rights reserved.