A new UN report has exposed the "terrible atrocities" of the Islamic State (Isis) in Iraq against the Yazidi and other ethnic minority communities since the militant group overrun the Sinjar region in August 2014.
Compiled by the UN Assistance Mission for Iraq (UNAMI) and the Office of the UN High Commissioner for Human Rights (OHCHR), the report, released on Thursday (18 August), found that an estimate of 360,000 Yazidi people remain displaced and are in serious need of psychological support. It also contains testimony of those surivivors who were among the 308,315 people – mostly Yazidis – who had to leave Sinjar district two years ago.
Women who were interviewed by the UN spoke about their horrors of having escaped from the militants' captivity. One woman told the UN how she was raped regularly for at least two weeks by a 26-year-old Syrian IS (Daesh) jihadist when she was "sold" to him. She said the man threatened to kill her daughters if she did not cooperate with him.
Another survivor recounted how she was "bought and sold" to six men in a row – all Isis members from Turkey, Syria, Tunisia, Egypt and Saudi Arabia. She said her seven-year-old daughter was also not spared as one Isis member tried to rape her, too.
The report said, in an attempt to keep her daughter safe the woman had cut off her child's hair and eyelashes, tore her clothes, and put her in a diaper and asked her to pretend to be mentally ill. However, after a man tried to rape the child in spite of this, the woman said she tried to kill herself and her child. They eventually escaped through the assistance of a smuggler.
The UN detailed accounts of "systematic and widespread killings, sexual violence and sexual slavery, cruel, inhuman and degrading treatment, forced conversions and forced displacement among other abuses of international human rights and humanitarian law".
The attack by the Isis militants have reportedly forced tens of thousands of the religious minority Yazidi population to flee the region where women were raped, abducted and sold for sex, while men were tortured and murdered.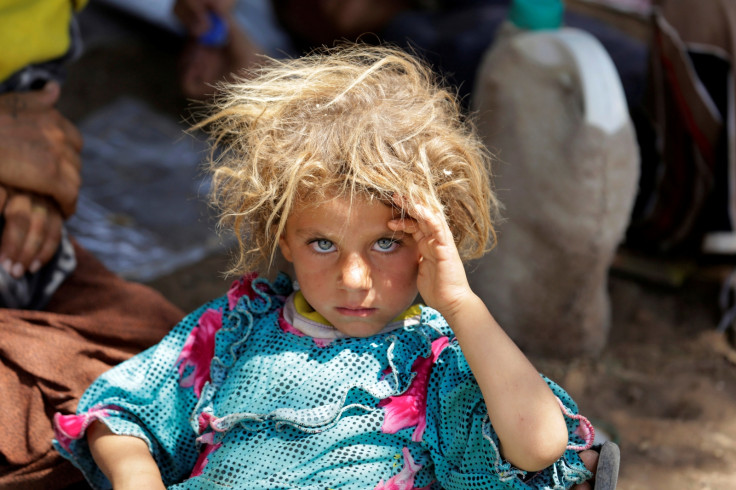 Some of the interviewees, including a breastfeeding mother, also reported that they even lived without food for three consecutive days. They had to rely on tap water from the toilets of the building they were held in on the days when Isis members refused to provide them with food or water.
Some members of the Yazidi community also complained they were threatened to be killed by the terrorists if they do not convert to Islam.
Special Representative of the UN Secretary-General for Iraq, Ján Kubiš, said: "Two years after the fall of Ninewa, the Yezidi community continues to be targeted by ISIL. Thousands of men, women and children have been killed or are missing, or remain in captivity where they are subjected to unspeakable sexual and physical abuse."
At the time when the Isis is reported to be losing its territories in Syria and Iraq, it has also been tightening its grip on women it is holding as sex slaves. About 3,500 children, women and men from different ethnic groups, including Yazidis, are still reportedly held in the jihadist's captivity. Some, as young as 12, were reported to be sold like chattel on smartphone apps, which carry an advertisement with their photographs and a price tag for each.
"Faced with such evidence, it is of paramount importance that the perpetrators of these heinous acts are fully and properly held to account," Kubiš added.
Falah Mustafa, Foreign Minister in the Kurdistan regional government in Iraq tweeted that he welcomed the UN report and called it "Isis barbarism". He said Yazidi "genocide must be recognised internationally".