Iraqi forensic teams have started excavating 12 suspected mass graves in the city of Tikrit which are thought to contain the bodies of up to 1,700 captured soldiers killed by the Islamic State (Isis).
The Iraqi soldiers were killed last June as they tried to flee Camp Speicher, a former US base outside Tikrit, from the swift IS advance. Jihadists posted graphic pictures on social media that appeared to show militants massacring hundreds of mostly Shi'ite soldiers after loading them onto flatbed trucks and then forcing them to lay in a shallow ditch.
The exhumation takes place a few days after Iraqi forces and allied Sunni and Shi'ite fighters wrestled back the city from IS. At least 12 dead bodies were exhumed on Monday (6 April) and DNA samples were already taken from 85% of the victims' families.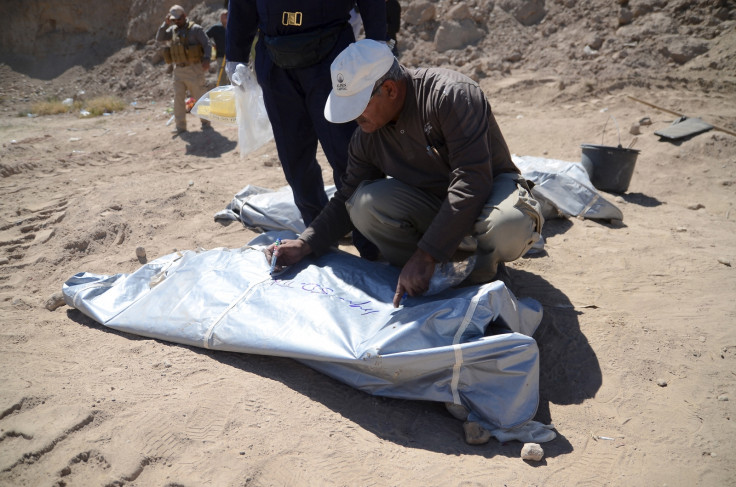 "We dug up the first mass grave site today. Until now we found at least 20 bodies. Initial indications show indisputably that they were from the Speicher victims," Khalid al-Atbi, an Iraqi health official working with the forensic team sent to Tikrit, told the Reuters news agency.
"It was a heartbreaking scene. We couldn't prevent ourselves from breaking down in tears. What savage barbarian could kill 1,700 persons in cold blood?" he asked.
Some of the burial sites are in the presidential compound of late Iraqi dictator Saddam Hussein.
The UN said in a report that about "1,500 to 1,700 members of the Iraqi armed forces from Camp Speicher ... were summarily executed on 12 June by Isis, allegedly after being captured or having surrendered".