The graffiti scrawled on Sinjar's pock-marked walls and the flags waving over its crumbling buildings show a city liberated but divided. In the five months since the Islamic State (Isis) in Iraq and Syria was ousted from the city, the Kurdish Peshmerga, the military force of the autonomous region of Iraqi-Kurdistan, have yet to stamp their authority on the newly liberated city.
But it isn't IS, whose incoming mortar fire punctuates the eerily quiet city, that is creating tension here. At least two armed Yazidi groups, the Sinjar Resistance Units (YBS) and the Yazidi Protection Force, are encamped in neighbourhoods within the city centre, often within view of Peshmerga bases. Their flags can be seen waving over the houses, schools, and police stations they have claimed as their own.
Both groups, which played prominent roles in Sinjar's liberation, say they have little intention of relinquishing control of the buildings they occupy, let alone handing responsibility for the city's policing and security to the Peshmerga, with whom they share a mutual and deep mistrust.
Wandering through looted and half destroyed homes of Sinjar, IBTimes UK met a Yazidi Protect Force fighter, scavenging electrical parts in an abandoned warehouse. "The Peshmerga put our women and children in ISIS's hands," he said of the Kurdish military's retreat in August 2014. "If a snake bites you, are you supposed to let it bite you again?"
The groups vying for authority in Sinjar, he said, "cannot co-exist. What we're seeing now is political tension, but it has the potential to evolve. If the Peshmerga don't withdraw from Sinjar, there will be problems."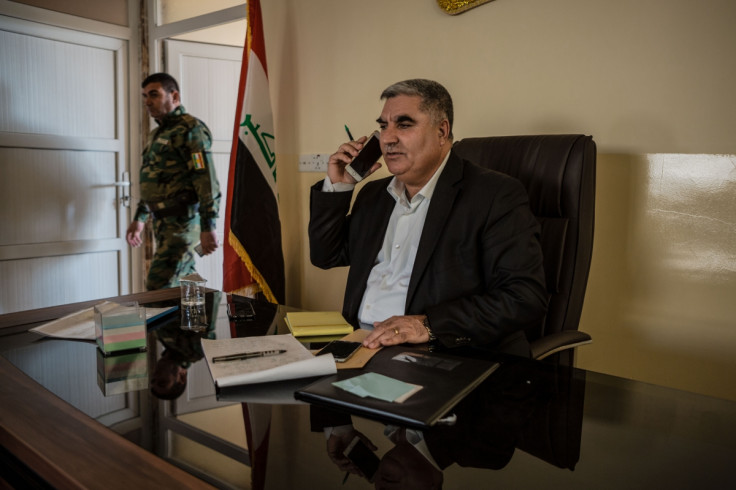 Mohma Khalil, the Yazidi Major of Sinjar, has chosen as his office the top floor of a home whose most recent tenant was the local IS commander. The mayor of the abandoned city is absorbed in Sinjar's reconstruction and re-population – a considerable task given the city still lacks electricity, running water and consists largely of rubble to be cleared. The presence of armed forces other than the Peshmerga, he says, is unwelcome.
"We appreciate the support of any group fighting Isil", Mayor Khalil said, "but there are 8,000 Yazidis in the Peshmerga now, and they are the legal military unit in Sinjar and are responsible for the protection of Sinjar."
Among the ranks of the predominantly Yazidi YBS include Kurdish fighters from Turkey and Syria, formerly members of the People's Protection Units and the Kurdistan Workers' Party who travelled to Iraq both to participate in the liberation of Sinjar defend their fellow Kurds. The role of these fighters post liberation, they say, is to firmly establish the YBS to the point where it is self sufficient.
"The Peshmerga fled when Yazidis needed protection," Akar (Fire), 24, a young YBS fighter from Turkey identified by his nom de guerre, said, "and they will do the same next time." New YBS recruits from Sinjar nodded in agreement.
"We are here to protect the Yazidi people," he added, "and we will stay until they are a fully trained, self-sufficient protection force."
The YBS, along with its all-female fighting wing the YBJ, has found itself in an unlikely stand-off, not only with the Peshmerga, but also with Sinjar's Iraqi police force. When the city's police chief, Major Ziad Hussein Barja, who is from Sinjar returned with his force in November, he found his offices and station taken over by the young YBS fighters toting AK-47s. After five months stationed in abandoned civilian homes directly across the street from his occupied police station, Major Barja is growing increasingly impatient with group's reluctance to relieve their post.
Among the Major's sparse tasks since returning to Sinjar include organising joint checkpoints with the Peshmerga, protecting government buildings from looting, and appealing to the government in Baghdad to assist in the ousting of the YBS from his former police station.
"We wrote to Baghdad for help getting our police station back" the Major said, "but that was a month ago, and we still haven't received a reply."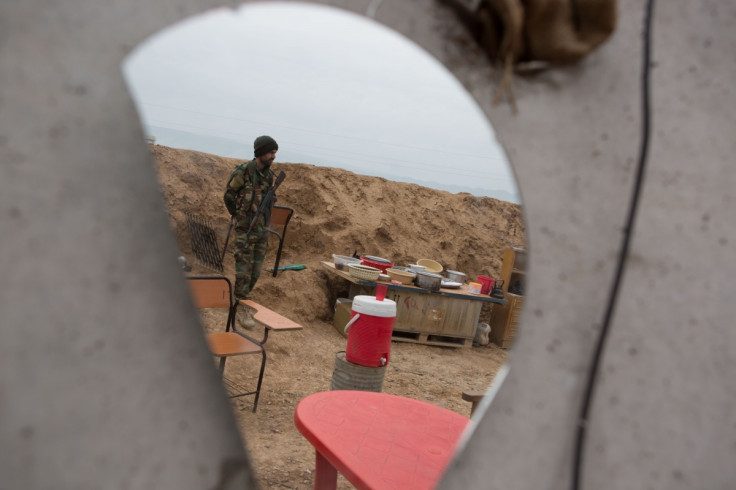 Akar doesn't believe the Iraqi government will fulfil Major Barja's request. Baghdad, he says, is fully aware, and tacitly supportive, of the YBS position, at least for the time being. Although the Iraqi government has not supplied either the YBS or the Protection Force of Sinjar with weapons directly, fighters with both groups say the central government in Baghdad has been providing the groups financial support.
If IS took Sinjar before, they can do it again.
While the YBS fighters say this money has been distributed among its ranks in the form of salaries, HBE fighters, numbering around 3000, told IBTimes UK that money from Baghdad has purchased the group fifty pick-up trucks, more than a dozen M-16s, and, "at least one hundred AK 47s."
Kurdish authorities in Erbil are evidently eyeing the increasing presence of at least the HBE since liberation. The group's leader Haydar Shesho was detained for one week by Kurdish authorities in April this year on charges of "forming and illegitimate militia."
The slow of trickle of civilians entering the phantom city are former residents, advises Kurdish Intelligence Major Rhuder Abu Azad, visiting Sinjar to rifle through what is left, if anything, of their homes. While official estimates vary, the Major says that approximately 20 families have returned temporarily.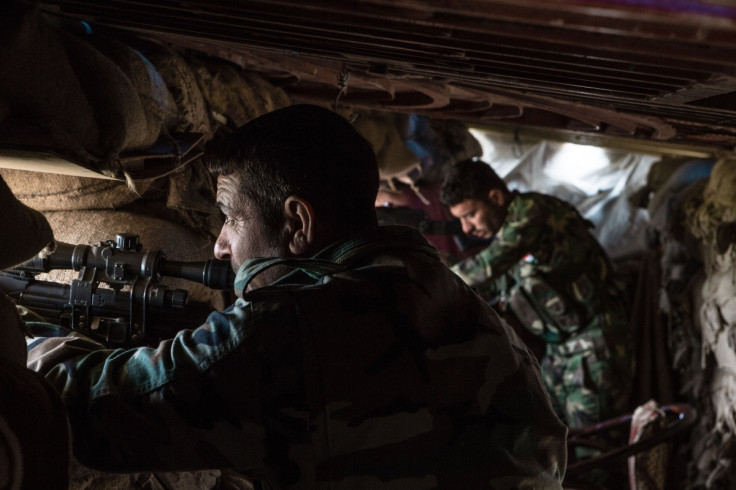 Khalaf Singali, 42, a father of five, is among the returnees. The sun is lowering below ruined homes on the valleyside opposite his. Wild flowers are blooming around his yard; butterflies dart through the long grass. "Sinjar used to be beautiful," Singali said looking to the mountain north of the city, "but now there are mortars and IEDs. When we came back, everything was destroyed".
Two evenings prior, he recounted, two Peshmerga soldiers approached him outside his house to ask, if they needed to flee another IS advance, could they escape with his family in his jeep, "I thought they'd come to welcome me back," Singali laughed wryly.
Singali lost trust in the Peshmerga when they fled alongside him and his family on 3 August 2014. Now that he has returned, he keeps his own weapon in his house to protect his family.
Even after the YBS delivered to his water to his home twice, he can't gauge their reliability. "We don't know who among the groups here we can trust," Singali said. "We have to assume that we are responsible for our own safety. If IS took Sinjar before, they can do it again."
"There is no unity within the Yazidi community on security principals in Sinjar," Peshmerga Captain Salem Al Hasgani said. Without the presence of an international protection force, returning civilians should not expect "law and order" in the city.
More photos of Sinjar by Andrea DiCenzo
---
Jonathan Brown is a journalist reporting throughout the Middle East. Andrea DiCenzo is an American photojournalist based in northern Iraq.
---