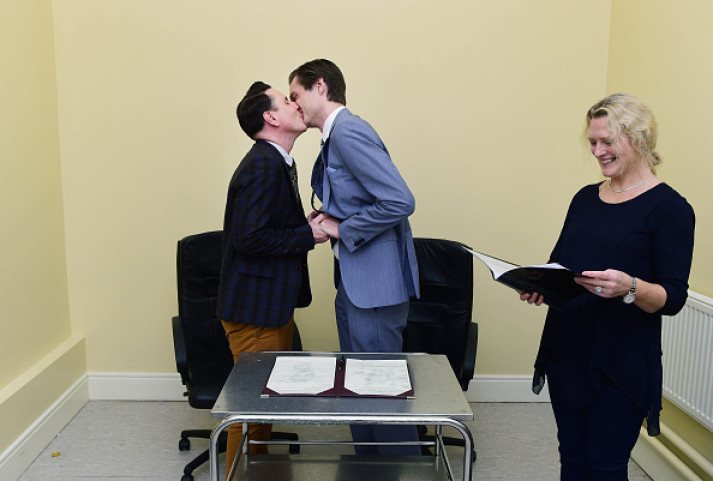 Ireland, the first country in the world to legalise gay marriages via a referendum, saw its first same-sex wedding on 17 November after a couple exchanged vows at a community care centre. The new law came into effect on 16 November following May's referendum but many couples had to wait for 24 hours to officially change their civil union status to married.
The new legislation allows same-sex couples who are already in a civil partnership to apply to get married within five days. The first couple to tie the knot was barrister Cormac Gollogly, 35, from Terenure in Dublin, and banker Richard Dowling, 35, from Athlone.
The couple travelled to Tipperary where they exchanged vows and decided to complete the formalities at the waiting area of Clonmel Community Care Centre. They signed the register at the centre on a hospital trolley before witnesses. The couple had met 12 years ago at a gay nightspot in Dublin.
"It feels really special, we feel so honoured and privileged to be not only the first but now that we actually are married as well," Dowling was quoted as saying by The Belfast Telegraph. "The registrar knew it was so important to us (to be first) so she said will we just do it here. Having had the big, lavish ceremony in Kilshane in September, we didn't feel hard done by in that sense."
"It's been a whirlwind, it's been incredible. We are delighted to be the first to get married," Gollogly said. He added: "When we were out celebrating the referendum result in May, everyone was saying it was like Ireland during Italia 90 (football tournament in 1990). Homosexuality was still illegal in Ireland at the time of Italia 90, so we are well aware of the changes in Ireland and it is great to be part of it."
Wayne Gough and David O'Hanlon were among the many same-sex couples waiting to get married officially. They had been together for nine years and exchanged vows just two months after their civil partnership.
"Today is really the final step in that process where now we can say as a couple that we are going to be a married couple and we are a married couple moving forward into our future," Gough said. "So I think all our guests and our family and friends who have joined us on this journey are just enjoying the fact that they are getting nearly two months of a wedding celebration."
Last week, under the Marriage Act of 2015, union of gay couples was officially recognised. While couples who have applied for civil partnership have been given the option of getting married, others will need to wait for three months to get married.