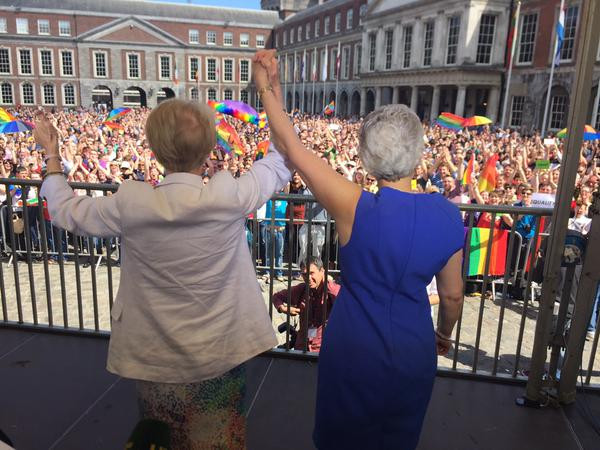 Senator Katherine Zappone's wife agreed to marry her partner in Ireland, after the senator popped the question at Dublin Castle, during a rally in support of the "yes" vote in Ireland's equal marriage referendum.
Zappone proposed live on state broadcaster RTE, as she spoke about the strong yes vote indicated by first tallies.
Zappone and her partner Ann Louise Gilligan married in Canada, but their marriage is not recognised in Ireland. They have been battling with the Irish courts over this since 2004.
In light of the expected yes vote, the Senator re-proposed to her wife live on TV.
Senator David Norris joked that he would act as the couple's flower girl for the ceremony.
The couple reappeared on RTE so that Gilligan could give Zappone an answer.
"I said yes 12 years ago in Canada and now we are bringing the yes home. Yes, yes, yes! Today we are free! Yes, yes, yes," Gilligan, said.
Arrangements will start within the next few days to pass a law to give create the Constitutional amendment that will allow Ireland's first same-sex marriage to take place before Christmas.
The expected Yes vote will result in a new sentence being added to Article 41 of Ireland's Constitution. It will read: "Marriage may be contracted in accordance with law by two persons without distinction as to their sex."
Gilligan joined the Loreto order of nuns aged 17 in Ireland, in what she thought was a move that would give her an opportunity to change the world.
"But here I am with Katherine," she said. "We are continuing our efforts, but together with the whole of Ireland. It's not just us, we have done this together. This has saved us from prejudice. Today we are free."