A branch of Tesco in Ireland is offering customers a free prawn sandwich when they buy a copy of Roy Keane's new autobiography.
The marketing move is a witty reference to comments made by the former Manchester United midfielder, who said of the club's fans: "Away from home our fans are fantastic, I'd call them the hardcore fans.
"But at home they have a few drinks and probably the prawn sandwiches, and they don't realise what's going on out on the pitch."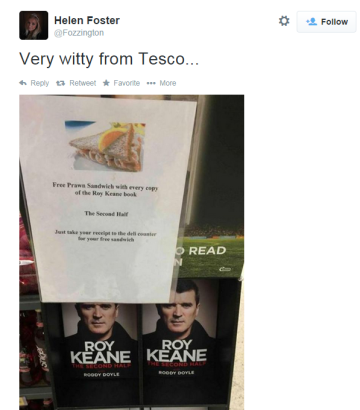 Keane's comments followed United's narrow 1-0 victory over Dynamo Kiev, when some supporters voiced their displeasure from the stands.
His words have since become synonymous with the "prawn sandwich brigade" – a term used to describe emotionally detached football fans.
Keane's book, Roy Keane: The Second Half, was released last week.
Extracts have been making headlines since its release, including one revealing that Keane once turned down the opportunity to buy Robbie Savage during his time as Sunderland manager because he didn't like the Welshman's recorded voicemail message.