The Iraq government have launched a stinging attack on neighbours Saudi Arabia, accusing the oil-rich theocracy of providing moral and financial support for ISIS militants holding several key cities and advancing on Baghdad.
In a further sign of desperation Iraq's Prime Minister Nouri al-Maliki has sacked four top army officers for failing to prevent the loss of Mosul to insurgents, accusing them of failing to fulfil their "professional and military duties". Foreign workers have also been evacuated from Baiji oil refinery, leading to fears there may be shortages of power this summer.
The conflict seems to be moving closer to Baghdad. 44 prisoners died at a prison in Baquba, just 40 miles from the capital, when militants attempted to storm the building, and a bomb in Baghdad's Shia Sadr City district killed at least 13 people.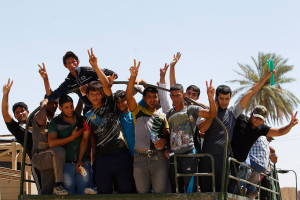 It is feared that ISIS are attempting to provoke Iraq's large Shia population into retaliating in the hope of provoking a religious war - which remains a "real risk" according to UN Secretary General Ban Ki-moon. Tens of thousands of Shia have volunteered at recruitment centres in recent days.
Iraq's mainly Shia-led government suspects Saudi's Sunni rulers of involvement in ISIS operations. In a statement Iraq's leaders said: "We hold them responsible for supporting these groups financially and morally, and for the outcome of that - which includes crimes that may qualify as genocide: the spilling of Iraqi blood, the destruction of Iraqi state institutions and historic and religious sites." Riyadh has denied the accusations.
Shortly after attacking the Saudis, Maliki appeared on television with Sunni politicians to appeal for national unity. Western commentators believe the broadcast, in which the Prime Minister appeared ill-at-ease, may have occurred as a result of pressure by the US, who are even considering co-operating with Iran in a bid to prevent the situation spiralling out of control.
British Prime Minister David Cameron has defended the government's decision to re-establish diplomatic contacts with Iran three years after the British embassy in Tehran was attacked, but warned that Britain could be targeted by battle-hardened militants returning home from Syria and Iraq.
"The number of foreign fighters in that area, the number of foreign fighters including those from the UK who could try to return to the UK, this is a real threat to our country," said Cameron.
"We will do absolutely everything we can to keep our people safe. That means stopping people from going, it means arresting people who are involved in plots, it means focusing our security, our policing, our intelligence effort on to that area of the world, on to those people."