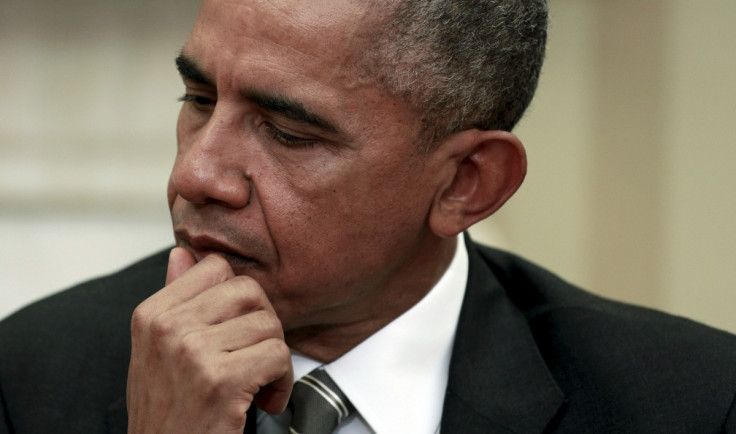 President Barack Obama has passionately defended the US's strategy in battling the Islamic State (Isis) militants amid growing criticism against the administration's methods. Toughening his tone on the critics, he assured the "thugs, thieves, and killers" will be defeated.
In his eight-minute address from Pentagon, the American president insisted the anti-Isis operations have been "harder than ever". Washington has dropped 9,000 bombs as part of the ongoing air strikes, he said, adding that the aerial offensive is only set to increase.
Obama was flanked by Vice President Joe Biden, Defence Secretary Ash Carter and three military generals at the Pentagon when he took the unusual decision to make the address. He made the remarks following his meeting with top security staff. The remarks are said to be squarely aimed at countering criticism that the Obama administration is not doing enough against Daesh.
Obama's Pentagon speech was also in sharp contrast to his earlier Oval Office address, which he made a week ago appearing tired. In yet another unusual step, Obama also listed the names of seven Daesh leaders who were killed in the US air strikes.
Using another acronym for the Islamist group, he told the reporters: "So far, ISIL has lost about 40% of the populated areas it once controlled in Iraq and it will lose more." The Obama administration has been under increasing pressure from Democrats and Republicans to intensify the operations against Isis – or Daesh, its Arabic acronym – after the extremist attacks in San Bernardino, California, and in Paris.
Conceding the US forces have not managed to penetrate Isis's strongholds such as Mosul, Obama argued the Sunni militant group has also not made serious gains after the US-led coalition began pounding the targets. "As we squeeze its heart, it'll make it harder for ISIL to pump its terror and propaganda through the rest of the world," he said.
Obama, who did not take any questions from the reporters, called on other nations to participate more in the anti-Isis offensive. "Just as the United States is doing more in this fight, just as our allies — France, Germany and the United Kingdom, Australia, and Italy — are doing more, so must others."
As part of Obama's push for additional measures in boosting the coalition, Carter is travelling to the Middle East to secure more commitments from the leaders. Carter has left for Turkey where he is expected to encourage Ankara to shut some parts of its border with Syria to curtail the movements of Isis militants.