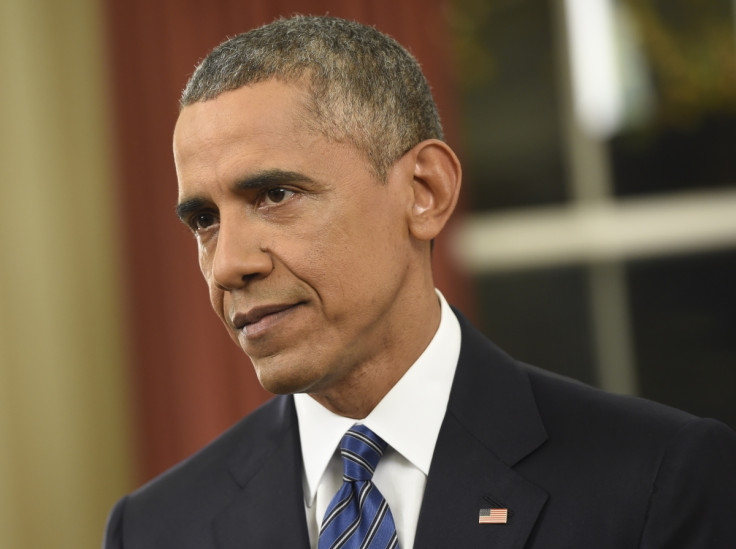 In a rare Oval Office address, President Barack Obama sought to reassure the American publican that the government is working to keep them safe following the mass shooting in San Bernardino, California by two suspected Islamic State (Isis) sympathisers. Obama discussed the security steps the US has taken since the deadly 13 November attack in Paris that left 130 dead.
Prior to his speech, a US official told Reuters that Obama would promise to use "every single aspect of American power" to destroy Isis (Daesh). The president previously stated that the US and its coalition would increase efforts to defeat the terrorist organisation. However, the Obama administration was not expected to unveil a change in strategy.
The president said the US will "continue to hunt down terrorists" in all countries. He said that following the Paris attacks, the US increased intelligence sharing with European allies and will work with Muslim-majority countries to defeat terrorist groups. "We will destroy Isil. And any other organisation that attempts to harm us," he said, using another term for Daesh.
Obama also gave an update into the investigation of US-born Syed Rizwan Farook and his Pakistani wife Tashfeen Malik. The couple, the main suspects at the San Bernardino shooting that left 14 dead and over 20 injured, allegedly declared their support for Daesh before the attack. A senior US government source told Reuters that investigators are attempting to determine whether Malik radicalised her husband and what kind of contacts she had with Islamic militants.
Investigators discovered four guns, around 6,000 rounds of ammunition and a dozen pipe bombs either on them or at their rented home in the Redlands, Reuters reported. The US source said that investigators are becoming more convinced that the terrorist couple was planning multiple attacks.
Obama said that it was determined that the San Bernardino shooting was a terrorist attack, but that there was no evidence that Farook and Malik were formally attached to any terrorist organisation. He added that there was no evidence that the couple was directed by a terrorist organisation overseas or part of a larger plot in the US. "This was an act of terrorism designed to kill innocent people," the president said.
In an interview on NBC's Meet the Press, US Attorney General Loretta Lynch noted that the president could call for congressional action. Reuters reported that the recent attack in California could help Obama get Congress to finally grant his February request for formal authorisation for use of military force against Daesh.
In his speech, the president called on Congress to increase gun control measures and make it impossible for individuals on no-fly lists to legally purchase weapons. "What could possibly be the argument for allowing a terrorist suspect to buy a semi-automatic weapon?" Obama also called on Congress to authorise strikes against Daesh.
Obama spoke against the terrorist organisation and discrimination against Muslims in the US.
"Isil does not speak for Islam. They are thugs and killers, part of a cult of death," he said. "We cannot turn against one another by letting this fight be defined as one between America and Islam." While he called on Muslims to reject terrorism, he also spoke out against discrimination towards Muslims in the US.