Islamic State militants defending their stronghold of Mosul have destroyed an Abrams tank, hitting it with a rocket as Iraqi Special Forces advance further into the city. Isis hit the tank amid the most intense clashes of the two week assault on Mosul.
The rocket that hit the US-made tank was fired from a nearby building and sent the crew fleeing from the smoking vehicle.
It does not appear the strike caused any casualties, the Associated Press reported.
The militant group, which has held Mosul for two years since it made a rapid incursion across northern Iraq in the summer of 2014, has targeted Iraqi positions with mortar strikes. Mosul residents, speaking to Reuters, explained fighters inside the city were deploying artillery and rocket launchers near residential areas.
Iraqi troops have returned fire in the Aden, Tahrir, and Quds districts, just west of Special Forces' footholds in the Gogjali and Karama neighbourhoods.
As the advance continued Iraqi commanders reported seeing Isis preparing for suicide attacks. A bulldozer and another car later emerged from IS-held territory, presumably packed with explosives, they said.
Since the outset of the now two-week long offensive on Mosul, Isis has counterattacked using suicide bombers and vehicles packed with explosives. Iraqi Special Forces entered the city on Tuesday (1 November). It is estimated the advance could take weeks or even months as Iraqi forces push towards the banks of the Tigris River.
In a speech to the residents of Mosul, the leader of Islamic State Abu Bakr al-Baghdadi said on 3 November there could be no retreat in a "total war". He demanded Isis fighters remain loyal to their commanders as reports emerge that members of the militant group are disguising themselves as refugees to leave the city.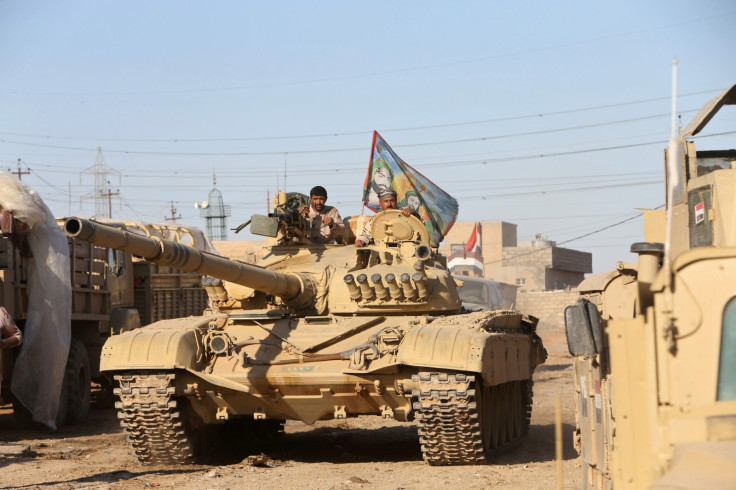 As the 1.5 million civilians in Mosul continue to bear the brunt of the offensive Oxfam has reported thousands of families are living in a "smoke-filled hell" with scant access to clean water or medical services.
ISIS militants have set 19 oil wells ablaze in the Qayarrah area, south of Mosul, as they were pushed northwards by Iraqi forces. The fires have produced clouds of thick black smoke and fumes across an area larger than Greater London. With several oil fields still under Isis control around Mosul, and the potential for thousands of people to flee to the Qayarrah area, there is a risk that many more people could be affected.