Isis warlord Abu Bakr al-Baghdadi 'no longer in Mosul' says Boris Johnson
The British foreign secretary brands Baghdadi's recording 'cruelly ironic' as intelligence suggests he fled.
Islamic State (Isis) leader Abu Bakr al-Baghdadi has fled embattled Mosul, British Foreign Secretary Boris Johnson has said. The Conservative MP responded to the self-declared Caliph's rallying cry issued early on Thursday (3 November), calling on jihadists to defeat the advancing Iraqi Army in the city.
Johnson was giving an update to parliament on the fight against Daesh (Isis) when he expressed the belief that the extremist had left the city Isis overran in June 2014.
Once the jewel in the crown of the terrorists self-proclaimed caliphate an estimated 30,000 people have fled since an operation to retake the city began in October.
Al-Baghdadi, an Islamic scholar who served time at the infamous US-ran Camp Bucca prison, told jihadists that: "...holding your ground with honour is a thousand times easier than retreating in shame".
Johnson said that his rallying cry was "cruelly ironic since some of the intelligence we have suggests he had himself vacated the scene himself and is yet using internet media to encourage others to take part in violence."
Johnson said the Mosul advance, which has seen the Iraqi Army, Kurdish forces and other militias backed by US-led western airstrikes, would take time and represented "the coalition's greatest challenge" according to The Guardian.
He added that post-victory stabilisation in the city, which boasts the al-Nuri mosque where al-Baghdadi declared the existence of the caliphate, is as important as the liberation of the city.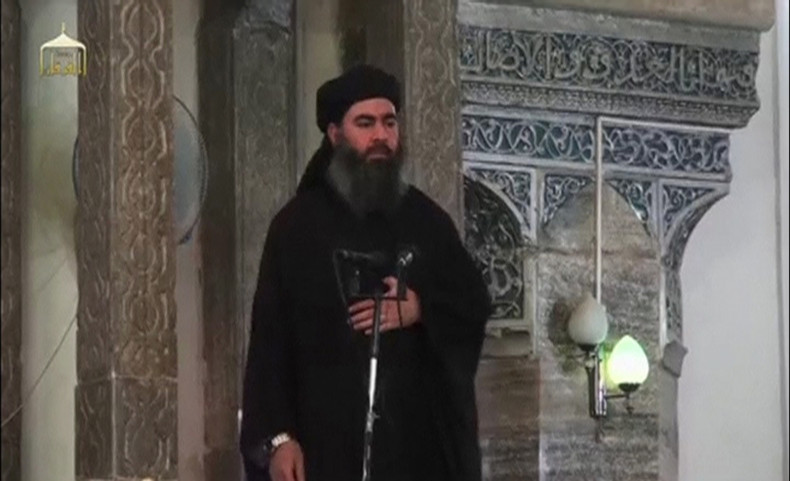 In his first address for over a year, al-Baghdadi told followers: "Do not retreat, this total war and the great jihad only increased our firm belief, God willing, and our conviction that this is all a prelude to victory."
He added that suicide fighters should "turn the nights of the unbelievers into days, to wreak havoc in their land and make their blood flow as rivers."
Many of Mosul's outlying villages have been liberated and two days ago the Iraqi flag was spotted waving from a building inside the city for the first time since 2014. Troops continued to advance into the eastern part of Mosul on 3 November - liberating the Gogjali area, around 8km (5 miles) from the city centre, after intense fighting.