An attack in an Istanbul nightclub popular with celebrities has left 39 people dead and nearly 70 wounded, after a gunman opened fire during a New Year celebration, the city's governor Vasip Sahin has said.
"A terrorist with a long-range weapon... brutally and savagely carried out this incident by firing bullets on innocent people who were there solely to celebrate the New Year and have fun," Sahin told reporters, in comments carried by the BBC. "He then carried out this violent and cruel act by spraying bullets on innocent people who were celebrating the New Year."
No terrorist group has claimed responsibility for the attack. A manhunt is underway for the assailant.
"Sixteen of the victims are foreigners while the other five are Turkish citizens," Turkey's interior minister Süleyman Soylu told reporters. "Our law enforcement has launched an operation. We hope he or she will be caught before long."
The number of foreign victims was later revised to 15. However, this total has since risen.
AP has reported that fatalities included four Iraqis and seven citizens of Saudi Arabia. Jordan's Foreign Ministry had confirmed three Jordanians were also killed, and four more are amongst the wounded. France's Foreign Minister Jean-Marc Ayrault, had stated that a woman holding French and Tunisian citizenship and her Tunisian husband were also killed in the attack.
A Lebanese fatality was identified as Elias Wardini by his brother Charbel Wardini.
AP has reported that the foreigners wounded included one Israeli woman, two Indians, and a Canadian, a Syrian, an Israeli, a Belgium and citizens of Morocco and Lebanon (including the the daughter of the Lebanese MP Estephan El Douaihy).
A police officer was among those shot as the gunman entered the Reina nightclub in the Ortaköy district on 1 January at around 1.30am local time, with CNN reporting the assailant was dressed as Santa Claus. Turkish Prime Minister Binali Yıldırım later said this claim was not true.
Turkey's Justice Minister Bekir Bozdağ later said the attacker used "Kalashnikovs" – referring to the Russian-designed automatic assault rifles favoured by criminals and terrorists. PM Yıldırım later said that the gunman had left a weapon at the scene, but did not say what it was.
Reina is a popular upscale nightclub frequented by foreigners and celebrities. Between 600-700 people were believed to have been inside the nightclub when the attacker opened fire. Some revellers jumping into the adjacent Bosphorus waterway to escape the attack.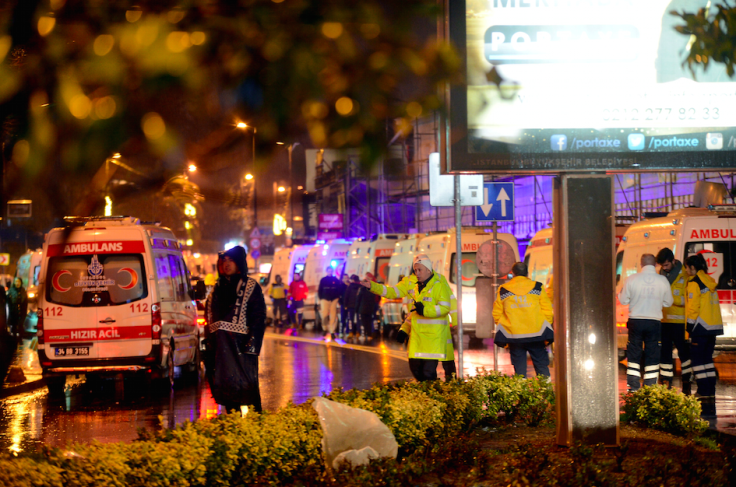 Ambulances lined up in the streets as wounded people were carried out of the club following the attack.
The attacker reportedly set off a smoke bomb during the attack, and is believed to have stopped to reload his weapon before firing more bullets into the crowd, the Daily Mail reported.
"We were having fun. All of a sudden people started to run. My husband said don't be afraid, and he jumped on me. People ran over me. My husband was hit in three places I managed to push through and get out, it was terrible," one witness named Sinem Uyanik was quoted as saying.
The attack took place despite tightened security across Istanbul as there were warnings from US intelligence that an attack could be carried out.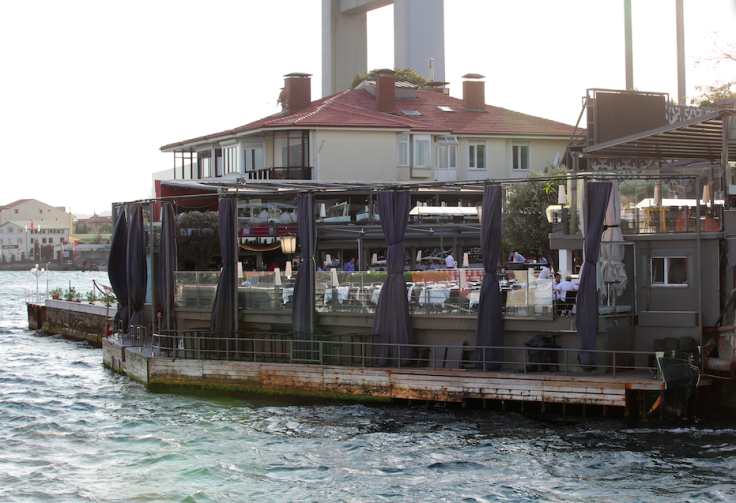 Between 17,000-25,000 police personnel were deployed across Istanbul as part of the security measures for the New Year celebrations. Following the shooting, security has been beefed up in other cities as well.
A temporary media blackout has been issued, with authorities citing security concerns as the reason behind the press embargo.
The US State Department shared a tweet asking US citizens in Istanbul to check in with relatives if they were safe.
The White House has condemned the attack, with a statement from spokesman Eric Schultz stating: "The president expressed condolences for the innocent lives lost, directed his team to offer appropriate assistance to the Turkish authorities, as necessary, and keep him updated as warranted."
The UK Foreign Office is working to establish whether any Britons were caught up in the attack.