Canadian Prime-Minister designate Justin Trudeau says he will withdraw his country's participation in air strikes against the Islamic State (Isis) militant group in Syria and Iraq. In his first official remarks after sweeping to victory in Canada's general elections, the Liberal leader said he had notified US President Barack Obama of his intention to pull back the six CF-18 fighter jets deployed to the region.
Trudeau, a former high school teacher and the son of former prime minister Pierre Trudeau, led the Liberals to a surprise victory in 19 October's elections, denying a fourth term to incumbent Prime Minister Stephen Harper. He had promised to end the air campaign against Isis, which was due to last until March 2016, in the run-up to the vote.
Trudeau said Obama had understood his decision when he informed him in a phone call on 20 October. He did not specify how soon the jets will be withdrawn from the US-led bombing campaign.
'We're back'
"I committed that we would continue to engage in a responsible way that understands how important Canada's role is to play in the fight against Isil (Isis), but [Obama] understands the commitments I've made about ending the combat mission," Trudeau, 43, was quoted as saying at a victory rally by the Guardian newspaper. However, he vowed to maintain around 70 military trainers deployed in northern Iraq, AFP reported.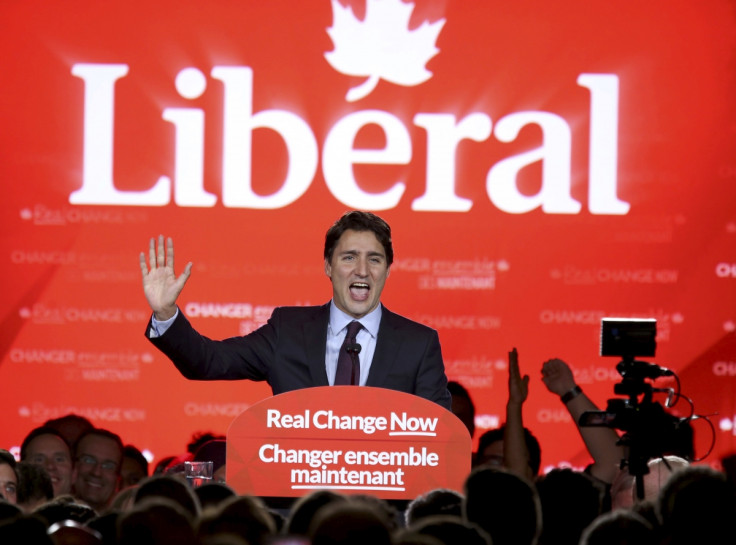 Addressing supporters in Ottawa, Trudeau pledged to forge an inclusive government and restore Canada's reputation as a defender of minority rights. "I want to say this to this country's friends around the world: Many of you have worried that Canada has lost its compassionate and constructive voice in the world over the past 10 years," he said. "Well, I have a simple message for you on behalf of 35 million Canadians. We're back."
As part of his election campaign, Trudeau promised to cut taxes for the middle class, raise infrastructure spending, address climate change, legalize marijuana and take in some 25,000 Syrian refugees by the end of the year. The Liberals secured 184 of the 338 electoral districts – well above the 170 needed for a majority - with the Conservatives only managing 99.