The French government has issued a series of safety instructions outlining actions to take in case of a terror attack, three weeks after Islamic State (Isis) terrorists killed 130 people in co-ordinated shootings and suicide bomb attacks in the capital Paris.
While senior European counter terrorism officials have warned Britain is the next target for IS (Daesh) terrorism, France today (Friday 4 December) has launched a public information campaign on what to do in the event of an attack.
"Following the attacks of 13 November, the Government wanted to launch a communication campaign to better prepare and protect citizens against terrorist threats," the information service for the government (SIG) said as it launched the campaign.
"Placed from the point of view of the individual, it allows everyone to know, understand and assimilate upstream basic behaviours to be had in such situations (...) If certain behaviours are common sense, others are not always known and obvious. Thus, they all contribute to the assimilation of saving reflexes."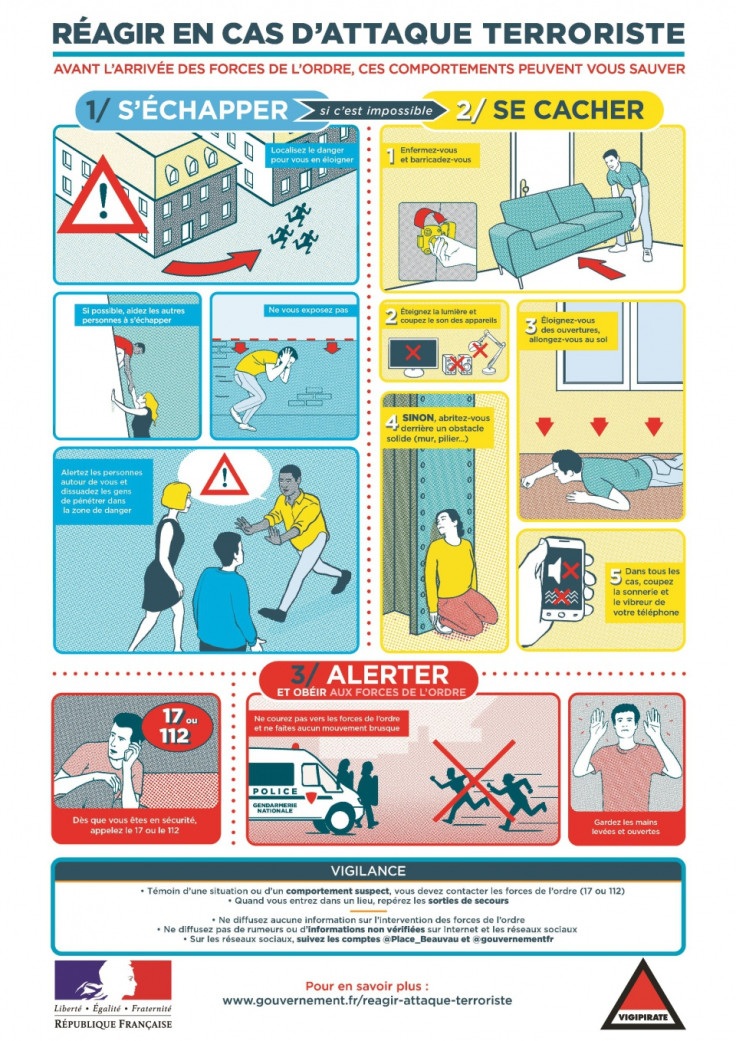 The best way to thwart a terror attack
Inspired by the safety instructions found in aircraft, the posters will be displayed in public spaces, including town halls, department stores, stadiums and museums, and will be published on the internet and social media.
"The poster also reminds some basic rules of vigilance. Prevention remains the best way to thwart a terrorist attack and save one's life and that of others," SIG said.
The poster, which details three major categories of advice until the arrival of police and emergency - escape, hide, and alert - also encourages the public to contact security forces by calling 17 or 112 if one witnesses "someone engaging in suspect behaviour".
"The first reaction should always be the escape; in the event that it is impossible, one must seek shelter or hiding. Once out of range or protected, one must then alert the police," SIG said.
Other tips include identifying emergency exits as soon as one enters a building, avoid posting any information about police anti-terror operations, and avoid publishing any rumours on social media.
A similar request by Belgium police for members of the public not to share information of anti-terrorism raids on social media, prompted an inventive response from Twitter users last month. Cat pictures inundated the hashtag #BrusselsLockdown in an attempt to make it harder for suspects to uncover information about anti-terror measures.