Islamic State (Isis) hackers have published a 'hitlist' of US military personnel they believe to have been involved in drone strikes against the jihadists in their self-declared caliphate. The list was published by the so-called 'Islamic State Hacking Division' online.
Within the list were home addresses and photographs of more than 70 US military staff that may have been taken from social media sites. The group also warned that they have another database of 'secret information' on US personnel gleaned by their 'brothers in the UK'.
The hackers were once led by Junaid Hussain, from Birmingham, who had urged the group's followers to use Twitter accounts to spread Daesh (Isis) propaganda before he was killed by a US drone strike in Syria in August 2015. His wife, Sally Jones a Muslim convert from Kent and mother-of-two is on the UK government's list of most dangerous IS recruiters and has previously urged attacks on RAF bases.
Authorities believe that at least five British Isis fighters, including Hussain, 21, and Mohammed Emwazi, 27, known as Jihadi John, have been killed by drone strikes. The hackers said: "Kill them wherever they are, knock on their doors and behead them, stab them, shoot them in the face or bomb them."
Lieutenant-General Sean MacFarland, the US commander leading Operation Inherent Resolve, the US name for operations against IS was named by the list. His identity and role are already in the public domain along with many of the others named – sometimes through military magazines and newsletters.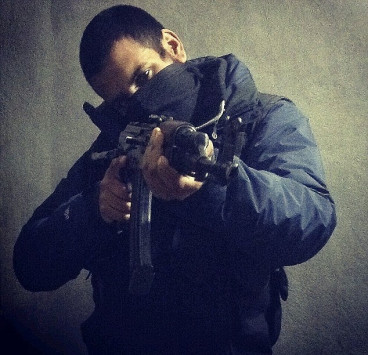 Their threats continue: "You crusaders that can only attack the soldiers of the Islamic State with joysticks and consoles, die in your rage! Your military has no courage, neither has your president as he still refuses to send troops.
"So instead you press buttons thousands of miles away in your feeble attempt to fight us. A nation of cowards that holds no bravery as you resort to sending your remote-controlled unmanned Reaper and Predator drones to attack us from the skies. So this is for you, America.
"These 75 crusaders are posted as targets for our brothers and sisters in America and worldwide to hunt down and kill."
The group also warned: "In our next leak we may even disclose secret intelligence the Islamic State has just received from a source the brothers in the UK have spent some time acquiring from the Ministry of Defence in London as we slowly and secretly infiltrate England and the USA online and off."
The 46-year-old Jones was once the member of a female punk rock band who is known as Umm Hussain. She is believed to have travelled with her husband and 10-year-old son to Syria in 2013 after meeting Junaid online. She has been designated a "global terrorist" after telling supporters to attack RAF bases and the Queen on VJ-Day.
Pentagon spokesman Adrian Rankine-Galloway, said to The Times: "We take proactive measures to protect our service members and their families and keep them apprised of changes to the security situation," he added. "We will not comment on the authenticity of the information in question, and this will have no effect on operations against Isil."