Islamic State terrorists are "hiding in plain sight" among migrant flows, the head of Britain's Armed Forces has warned.
Air Chief Marshal Sir Stuart Peach said he was "worried" about the global reach of Isis and the spread of its ideology online, given that countries such as China have confirmed they have a problem with the militants.
He made the comments at the military think thank the Royal United Services Institute's annual lecture in London on Wednesday (14 December).
Addressing the audience, Peach said: "I worry about the global reach of Daesh as an idea, copycats, using the internet – more than the internet – using social media, popping up all over the world.
"The Chinese state has accepted they have a problem. This is not now a localised phenomenon, it is now a wider phenomenon.
"And of course we face, as my friend Andrew Parker has said, the director general of MI5, a potential network of combat-experienced terrorists.
"On the other hand they are losing territory rapidly, foreign fighters are being killed and displaced.
"But they are moving in migrant flows, hiding in plain sight.
"One of the obvious deductions, and I think it does bear more scrutiny from the younger and the analytical community, is how we manage identity in a world where people are deliberately trying to destroy their identity documents and/or they move in migrant flows," the Telegraph reported.
Meanwhile in the US, the Pentagon has reviewed this year's progress against Isis.
Stephen Townsend, Commander of the Combined Joint Task Force's Operation Inherent Resolve, said that the Isis magazine Dabiq, which was named after a northern Syrian town, had to change its name because the territory was taken back by coalition forces. He added that this was symbolic of the battle against the terror group.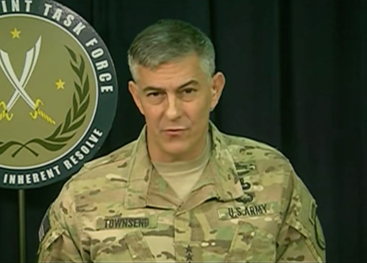 "It used to feature articles about a Utopian Islamic state, now the name of their magazine is 'Rumiyah,' because thanks to Turkey and our Syrian partners, Dabiq is under new management, no longer in ISIL's control," the commander said.
Coalition forces have killed or seriously wounded more than 2,500 Isis members since mid-October.
Townsend said: "We have captured or killed 180 ISIL leadership figures and hundreds-more lower-level commanders.
"Such strikes disrupt the enemy's ability to plan and conduct operations here, or conduct external attacks around the world."
Despite the US coalition's advances, Isis is pushing into Palmyra in Syria and in Kirkuk in Iraq.
On Wednesday (14 December), Iraqi Brigadier General Sarhad Qadir confirmed to Al Masdar News that Isis executed 28 people in Hawija.