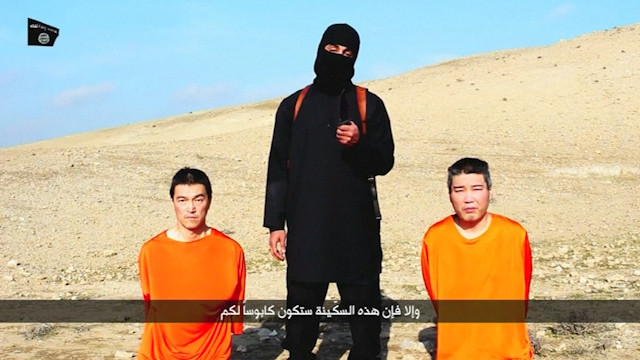 Time is running out for the two Japanese hostages held by Islamic State militants who have demanded a ransom of £131m ($200m) for their release within 72 hours from Tuesday when they released a video.
The deadline will expire at 2:50pm Friday, Tokyo time (12:50am ET).
Kyodo news agency reported the Japanese police had dispatched a 30-member rapid response team to Jordan to negotiate and secure the release of the captives.
On the same day, Prime Minister Shinzo Abe said Japan was doing everything it could to get the two hostages released, but also vowed that his country would "never give in to terrorism".
Japanese Chief Cabinet Secretary Yoshihide Suga said Japanese officials are trying to save them. His government will do its utmost to communicate with Isis on the fate of Kenji Goto and Haruna Yukawa through a third party, such as another nation's government or a local tribe.
To pay or not?
Japan finds itself in the tricky position of losing out either way. If it does not pay the ransom, the militants are bound to execute their captives.
Isis does not have a history of mercy and has beheaded most of its captives, besides using the deaths as propaganda by releasing execution videos online.
Beginning in August with the killing of US journalist James Foley, the militants have beheaded American and British hostages, both nations involved in a military campaign against Isis. Japan is seen as an ally though it has not participated in any airstrikes.
However, paying the ransom would damage Japan's reputation with its allies besides encouraging further abductions in the future, says Sheila A Smith, senior fellow for Japan studies at the Council on Foreign Relations.
According to figures released by the US Justice Department in October, Isis militants earned $20m from ransoms last year.
Bonds of friendship
The two Japanese are freelance journalist Goto, 47, and Yukawa, 42, the founder of a private security company, reports Reuters.
Yukawa was scouting Syria to gain combat and survival experience as part of his dream to become a military contractor after going bankrupt, losing his wife to cancer and attempting suicide.
Goto, a freelance journalist, gave Yukawa insights on how to survive there, according to an associate of Yukawa.
He also introduced him to rebel fighters, spurring Yukawa to start raising money for the cause after returning to Japan. Yukawa went back to Syria in July.
Yukawa was captured in August outside Aleppo. Goto, who had returned to Syria in late October to try to help his friend, had been missing since then.
Goto, who converted to Christianity in 1997, also spoke of his faith in the context of his job.
"I have seen horrible places and have risked my life, but I know that somehow God will always save me," he said in an article for the Japanese publication Christian Today in May. But he told the same publication that he never risked anything dangerous, citing a passage in the Bible: "Do not put the Lord your God to the test."
Goto's disappearance had not been reported until Tuesday's video surfaced.
Kenji Goto "is the best journalist I met, and I work with him because he (doesn't) like military stories. He covered, every time, civilian and kids stories in Syria", says Alaaeddin Al Zaim who worked as a fixer for Goto, one of the Japanese captives held by Islamic State militants.
Describing Goto as a very strong person, Zaim told CNN: "Sometimes we are going to danger(ous) places, he (isn't) afraid. He tell(s) me: 'This is my job. I am journalist. I have to do that.'"
It was when he set out to find his missing friend Yukawa that Goto fell into the hands of the militants.