In the second hostage video released by the Islamic State [IS] this year - after the alleged killing of Russian spies by a young boy - two Japanese nationals appear either side of the British executioner known as "Jihadi John", seen in the group's previous propaganda videos documenting the beheadings of western journalists and aid workers.
The men in the video, entitled "A Message to the Government and People of Japan", are believed to be Kenji Goto Jogo and Haruna Yukawa.
Jihadi John threatens that both men will be killed within 72 hours unless a $200m (£132m) ransom is paid in full, as compensation for Japanese Prime Minister Shinzo Abe offering non-military aid to the US-led campaign against the terror group on his tour of the Middle East.
But how did these men fall into the hands of one of the most feared terror organisations in the world?
Before his capture, Goto was an avid freelance journalist who created his own video production company, Independent Press, in Tokyo in 1996 with the tagline "The World With You".
Through this company, he sent footage of conflict zones to Japanese television networks.
Goto is a man with a great interest in the Syrian civil war and the humanitarian crisis that has unfolded in the country, delivering lectures on the crisis and the reality on the ground before he returned.
At the time of Yukawa's capture in August last year, Goto was already back in Japan, according to Reuters, before returning to northern Syria.
In October last year, his final Twitter post shows a YouTube video of him speaking in front of the Syrian-Kurdish city of Kobani, which has been besieged by IS fighters for months.
According to his Twitter account and website he had been covering events in Syria and it is believed but unconfirmed that he was captured in Aleppo, the city at the heart of the battle between rebels, jihadists and government forces.
It appears that Goto's passion for helping the Syrian people led to his return to northern Syria and his subsequent capture.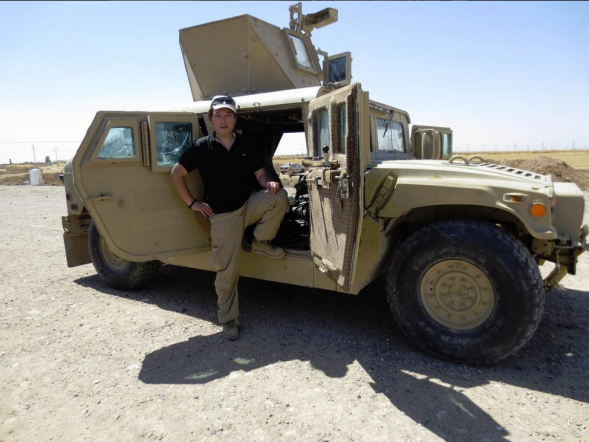 Haruna Yukawa's military fantasy
In YouTube footage released in August last year, the second man in the hostage video, believed to be Haruna Yukawa, was shown captured in Syria by IS sympathisers.
He was taken hostage while travelling with the Free Syria Army in northern Aleppo and because of his possession of a gun he was treated as a spy. In the footage, the militants ask the Japanese national: "You thief? Why you have gun? You kill soldier?" He replied: "I am no soldier."
His capture reached Japan and many started to dig for more information on the captive. It was discovered that he owned a company known simply as "Private Military Company" and he had uploaded Facebook videos showing himself using an AK47 in Aleppo.
The website gave the impression that Yukawa had a company with offices all over the world, even with its own CEO blog.
The reality was that he was the sole employee of the paper company, with no existing office, despite its business being "international private military work, international bodyguard, armed shipping escort, logistical support and conflict zone escorts".
"Live as a woman"
After his kidnap, Reuters reported that Yukawa had lost his wife to lung cancer, his house to bankruptcy and his business, leaving him to live in a public park for a month, all within the space of a decade.
He even contemplated cutting off his genitals as he felt that if he had failed he would "live as a woman and leave the rest to destiny".
This series of life-changing events led him to the point where he wanted to escape to some of the world's worst conflict zones, dreaming of providing security to big Japanese companies in Syria and Somalia "where the danger factor will be amped up", he told friends.
Yukawa was initially detained by the Free Syrian Army (FSA) in Aleppo before befriending members of the group because of his kind nature.
According to Reuters' report, Yukawa and Goto met each other in Syria and had travelled together in Iraq, with Goto providing details of his fellow countrymen after his capture in August last year.
Now, both have been publicly reunited in the most horrible fashion, on screen either side of the knife-wielding British jihadi as part of the terror group's propaganda machine, awaiting their fate as the Japanese government decides its response to the shocking footage.