The most senior spokesman for Isis, Abu Muhammad al-Adnani, has been seriously wounded in an air strike in Iraq, losing large amounts of blood, according to reports. If confirmed, it would be a major blow for the terror group, where he is regarded as its second most important figure, behind the leader Abu Bakr al-Baghdadi and was expected to succeed him if Baghdadi is killed.
Information about the hit was released in a statement by Iraq's military. The statement, which has not yet been independently verified, said: "There are confirmed reports that the so-called terrorist Abu Muhammad al-Adnani the spokesman of the Daesh (Islamic State) terrorists was wounded in an air strike ... in the region of Barwana."
An estimated 100 Isis fighters have been killed in and around Barwana this week, according to the US-led Coalition. Spokesman for the Coalition, US Army Colonel Steve Warren, was unable to confirm al-Adnani's wounding but said he had not been targeted by a coalition air strike. Adnani has now been moved to the Isis headquarters in Iraq, Mosul, according to the Iraqi statement.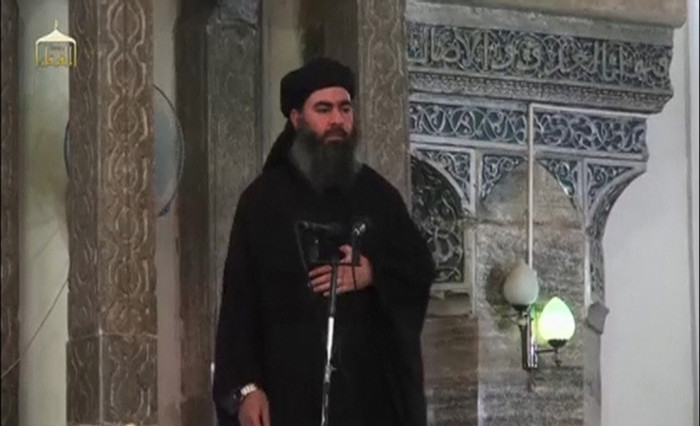 Born in western Syria under the name Taha Sobhi Falaha, al-Adnani was detained in Iraq in 2005 as one of the first foreigners to oppose the coalition. When Isis (also known as Isil or Daesh) first came to prominence in the summer of 2014, he became one of its most recognisable faces and voices. He told Daesh followers to: "kill a disbelieving American or European – especially the spiteful and filthy French – or an Australian, or a Canadian, or any other disbeliever from the disbelievers waging war, including the citizens of the countries that entered into a coalition against the Islamic State."
In August 2014, al-Adnani was designated a terrorist by the US State Department. A $5m(£3.4m) reward has been offered by the US for information about al-Adnani. The United Nations Security Council also approved his addition to a list of individuals against whom sanctions should be applied.