A museum in the village of Cinderford, Gloucestershire, has mounted an exhibition dedicated to Islamic militants Islamic State (Isis), complete with photographs and videos of beheadings carried out by the group.
The "Crime Through Time" museum in Littledean Jail has a history of displaying ghoulish and upsetting exhibits from the Holocaust, Ku Klux Klan and serial killers, but its latest show appears to be the most controversial yet.
Museum owner Andy Jones says he decided to put on the exhibition as a form of education.
"Obviously it's quite controversial – we are a crime museum so what do you expect," Jones told the Gloucester Citizen.
"People in this country were only made aware of the atrocities that took place in the concentration camps during the Second World War at a later date. What Isis are doing is taking extremism to a much higher level."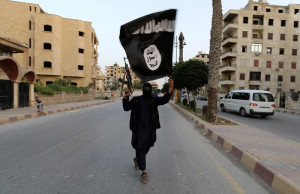 The museum's other displays include a cushion sewed by mass murderer Rose West, a heart-shaped box made by Moors Murderer Myra Hindley, and suits worn by racist murderers of the Ku Klux Klan.
Jones says his decision to include a display about Isis has nothing to do with the shock factor.
"I don't believe the government provides the public with the information they should about the threat of Isis to the UK," he says. "I personally believe that there are already a great number of splinter cells around this country.
"Isis is a global franchise which is incredibly well-funded. It is like a premier league football club. We provide a stark reminder of the evil and barbaric atrocities that Isis are carrying out.
"People may feel that it is insensitive and that what Isis have done is still very raw but everyone is talking about it. We cannot ignore it."
However, senior Labour MP Keith Vaz said the exhibition would cause anguish to families of the victims of Isis, including Britons David Haines and Alan Henning, both beheaded by the group.
Isis has slaughtered thousands of people in the Middle East as part of its objective of establishing a caliphate.
"This is grotesque and I urge the owner not to open the exhibition," said Vaz. "It should be looked at by the authorities and the owner should think again and save himself and the relatives of those who have been the victims of Isis the anguish that this will cause."
Isis