The Islamic State (Isis) has released a new propaganda video featuring a montage of brutal killings in besieged Fallujah with one alleged spy having his head blown by an exploding necklace. The video is entitled "Where to Flee" and was released on 17 April and features beheadings, gun executions and one particularly brutal death.
It was said to have been taped in, or near, the besieged Iraqi city of Fallujah, around 43miles (70km) east of the capital Baghdad. The city has been under the control of the jihadists since January 2014 after part of the Anbar Governorate fell to Daesh (Isis).
But Iraqi troops in the area have made gains to the east in Ramadi and have cut off supply lines to the west of the so-called 'City of Mosques'. The loss of ground in Iraq has left the jihadists increasingly desperate, leading them to release more shocking videos from the city in an attempt to scare the west and attract disaffected Muslims.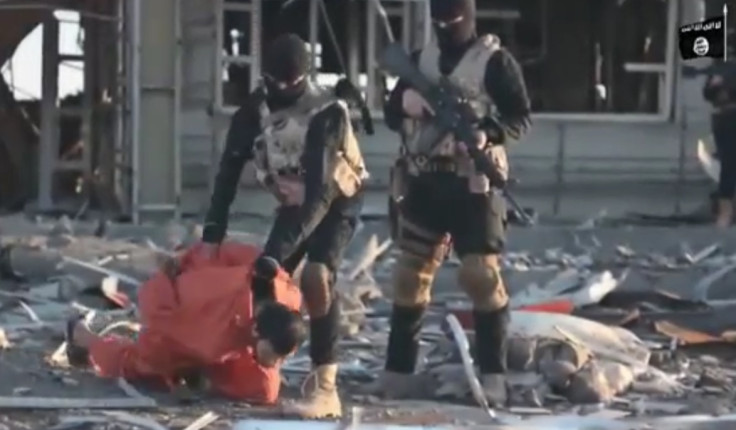 In the video, men accused of spying are executed in several gruesome ways that include an "explosive necklace". The jihadists also threaten the US and convince their victims to act out their crimes for the camera.
All of the victims are videoed in trademark orange jumpsuits and led through the battered ruins of the city before being executed. On 5 April Isis burned 15 civilians to death in Fallujah for attempting to flee the city.
Earlier this month, another propaganda video was released by Isis showing beheadings, dismembering people and an alleged gay man thrown off a roof. In the same video Isis militants were shown destroying piles of Christian relics and tearing a cross down from Christian monuments.
In the past few months, air strikes carried out by the US-led Operation Inherent Resolve and Russia have damaged Isis oil facilities, causing production to drop in its so-called caliphate from 33,000 to 21,000 barrels a day, according to a new report. The terrorists have also lost 22% of their territory over the past two years — meaning three million less people are now under their control.