UK anti-terror police are ramping up efforts to curb the spread of terrorist propaganda online after disclosing that its crack cyber unit is now forced to remove over 1,000 pieces of extremist content a week – including videos of beheadings, bomb-making manuals and religious hate speech.
Spearheaded by the UK Counter Terrorism Internet Referral Unit (CTIRU), the campaign is dubbed the 'Stop Terrorists' and Extremists' Online Presence' (STOP) and aims to create a safe and anonymous platform for internet users to report dubious content.
The steady rise of propaganda
Since the launch of the CTIRU back in 2010, it has reported a steady increase in terrorist-produced content plaguing the web by taking advantage of social media websites and mobile applications. The department revealed that in total it has removed over 160,000 pieces of extremist material from the internet. Almost a third of this – 55,000 separate incidents – were in 2015 alone. Fortunately, the number of referrals it receives from the public is also on the rise. The unit said it received 2,995 alerts from internet users last year compared to 1,462 in 2014. In the first three months of this year, the cyber division had received nearly 800 tips.
With 26,470 removals already in the first three months of 2016, the CTIRU said it is taking proactive steps to combat the problem – which it blamed on the rise of Islamic State-inspired propaganda. The STOP campaign will put a large red sign labelled STOP on police websites that will link to a government website which users can then use to anonymously report the URL or online location where the content was viewed.
Helen Ball, senior national coordinator for counter terrorism policing, said: "Tackling extremist material is important to protect the public and prevent offences that incite or promote terrorism and extremism. The internet and social media provide many opportunities for those with extreme views to target young or vulnerable people, and their methods are constantly evolving, from using new phone apps to hijacking popular hashtags in order to reach wide audiences."
Indeed, in our own investigations, IBTimes UK has encountered a number of Daesh-affiliated coordinators using the end-to-end encrypted application Telegram to disseminate terrorist information – even if their social media-based 'attacks' aren't always a success.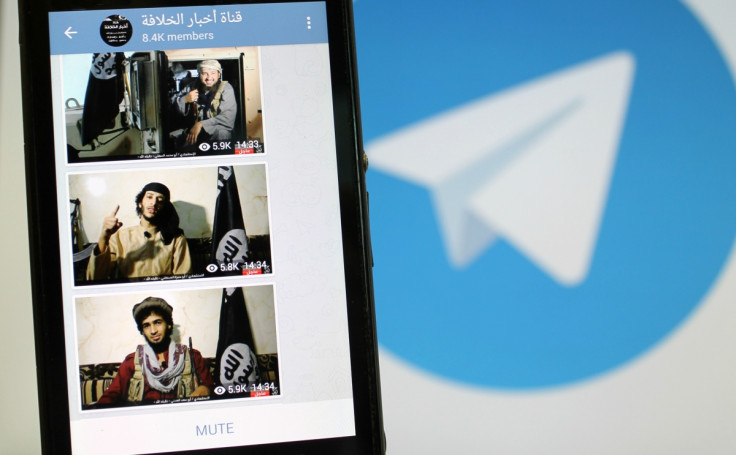 According to the CTIRU, the STOP campaign has been set up to work alongside service providers to speed up the removal process of material that encroaches on terms of service. The cyber cops also said publication of such material could result in the culprit being investigated under the Terrorist Act 2006.
Baroness Shields, the UK minister for internet safety and security said: "Everyone has the ability to recognise hatred and intolerance online. The internet was developed to bring people together, it is vital we work in partnership to stop those who exploit it to drive us apart."