Isis releases poster of Lionel Messi crying blood in latest Russia World Cup 2018 threat
Image shows text: "Just Terrorism – You are fighting a state that does not have failure in its dictionary".
Social media channels affiliated with the Islamic State (Isis) terror group have released a poster of FC Barcelona player Lionel Messi crying blood ahead of the 2018 FIFA World Cup in Russia.
The image shows the player in a prison uniform and behind bars along with the text: "Just Terrorism – You are fighting a state that does not have failure in its dictionary".
The graphic was first shared by the pro-Islamic State (IS) Wafa' Media Foundation. Isis later shared it on Telegram and the Deep Web pro-IS forums Shumukh al-Islam and al-Minbar Jihadi Media, according to SITE Intelligence Group, which monitors terrorist activities.
As part of the campaign threatening the upcoming World Cup, the Wafa' Media Foundation released another graphic on Telegram and the Deep Web showing a fighter overlooking the stadium. Next to him is a backpack and explosives.
The image was accompanied by the English message: "O enemies of Allah in Russia, I swear that the mujahideen's fire will burn you. Just you wait..."
In a joint statement announcing a merger betweent pro-Isis al-Wa'd Media Foundation and Al-Wafa earlier this month, photos of US President Donald Trump and his Russian counterpart Vladimir Putin with bullet holes in their heads, were also released.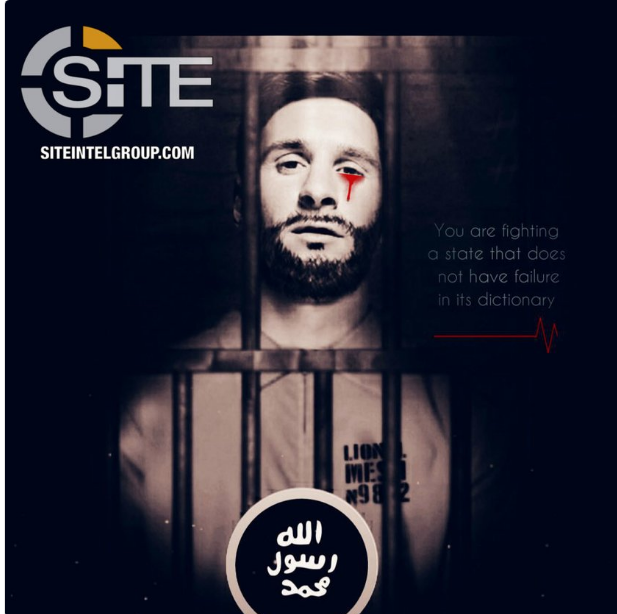 Isis in Russia
Isis claimed responsibility for a bomb attack that killed at least 14 people and injured dozens in St. Petersburg, Russia's second largest city, on 3 April.
Suspected members of the the terror group have also been involved in attacks and terror plots in the Russian Chechen Republic. Earlier this year, 11 militants who attempted to attack the police in the city were killed.
Although it still controls pockets of Syria and Iraq, the group is progressively losing territories in both countries due to multinational offensives that have led to the recapture of several areas held by the militants. Russia is taking part in airstrikes that have weakened the group in Syria.
Isis lost both Raqqa and Mosul, its major strongholds in Syria and Iraq, in October. The group had seized the towns in 2014, turning hem into the capitals of its self-declared Caliphate.