I sat down with Buddhists and Rohingya in Myanmar - here's what they said about the bloody crisis
James Lavender travelled to Rakhine to document the stories of those caught up in the bloody conflict.
Ethnic tensions between the Buddhists and Rohingya Muslims living in Myanmar have existed for decades. In August 2017, violence erupted with an attack by a Muslim terror group called the Arakan Rohingya Salvation Army, or Arsa, on Rakhine police posts. The military subsequently launched a brutal anti-Rohingya campaign, sparking a mass exodus to Bangladesh.
Human rights activists have criticised Aung San Suu-Kyi, the leader of Myanmar, for not publicly condemning the army's attacks and for failing to protect the Rohingya community from what the UN has described as a "textbook example of ethnic cleansing".
James Lavender, a London-based businessman and the founder of social enterprise 'incubator' IDEAS Globally, travelled to the northern Rakhine state in western Myanmar to document the stories of both Buddhists and Rohingya caught up in the conflict.
A Rohingya village
My guide first took me to a Rohingya village, where I spoke to the village leader about the conflict.
It was the only house in the village with concrete walls and floor; the inside was cool and quiet. The man motioned for me to sit down on one of the tiny plastic chairs bunched around a makeshift table.
"How old is this community?" I asked.
"There have been Rohingya here in this village for over 100 years."
"I have heard some people say the Rohingya are from Bangladesh. Is that true?"
He leaned forwards and clasped his hands, looking up at me: "We are from Myanmar. My parents and my grandparents were born here. We are not Bangladesh."
"Can any of you work in the town?" I asked.
"No," he said bitterly, actually raising his voice. "If we go there they will kill us. We cannot go anywhere. We must stay here."
"Who will kill you, the military?"
"The Buddhists. Last month some Rohingya go to the town. They killed them."
"They killed them? For what reason?"
"For being there. We cannot be there."
"So what does everyone do, if you cannot work?"
"Nothing. They do nothing."
In 2012, a huge spate of violence kicked off between local Rohingya and Buddhist Rakhine people, instigated by the alleged rape and murder of a Rakhine woman by three Muslim men. This led to the burning of Muslim housing in the nearby town, widespread killing, and their forcible displacement.
"Look," the man said. He showed me a video on his phone of huge swathes of people wading through a wide river. On the hillside, crowds surged past the camera too. "Not far from here."
"Can you help them? Can they come here to this village?"
"No. We cannot. They will be killed if they come here. We cannot help them."
He looked at me directly, distressed: "Do you know what will happen to us?"
I did not know how to respond. "Many western countries do not want this situation to continue," I said. "I will do my best to help," I added, acutely aware of how pathetic the previous statement sounded.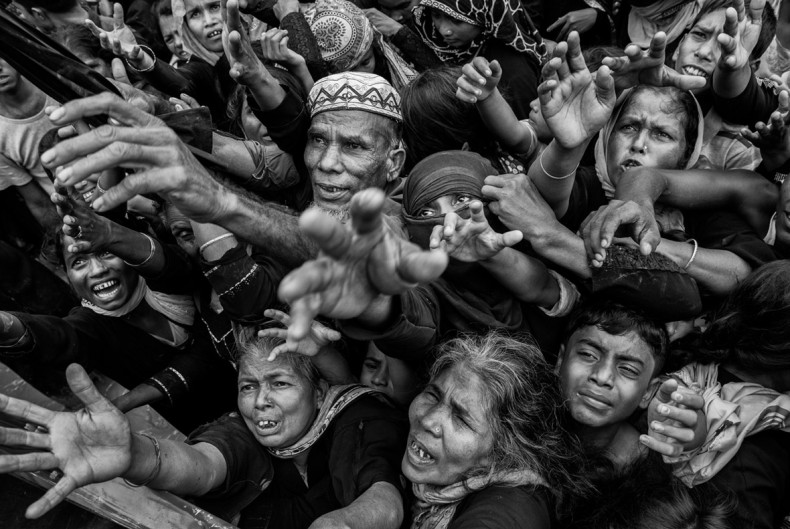 A Buddhist monastery
I next travelled to a monastery housing Buddhist refugees, where I spoke to the monastery chief about tensions between the two communities.
"Over three hundred Buddhist refugees here," he told me. "We feed them all every day."
"Where are they from?"
"From Maungdaw, from Buthidaung. Those northern townships. Many hide in the jungle."
"Who are they hiding from?"
"From the Muslim terrorists." He took my arm. "Come."
We climbed a steep flight of stairs into another room. It was quieter here, but still filled with people, mostly women and babies. They sat in orderly spaces and sunlight fell across the wooden floor. Red Cross boxes were stacked next to each group. "All Rakhine people," he told me, as we walked to the end of the room.
It was interesting that whenever I heard the word 'Rakhine' used, it was only for the Buddhist population of Rakhine State. Imagine calling an English person 'British' but never using that word for other nationalities within the United Kingdom.
A monk wrapped in yellow-orange robes strolled over. "These people are all fleeing from the Muslims. From the Bengali terrorists," he said. "The situation is very bad."
"What do you think is the cause of this problem?" I asked him politely.
"There are too many Muslims," he replied. "Too many in the north. Do you know how many children a Bengali woman will have?"
"Seven or eight," he answered, when I did not reply.
"The percentage of Muslims in your country of Britain is about 35% now," the chief put in, severely. It is actually closer to 5%. Where was that disinformation originating from? "Even your governor of London now is a Muslim," a man standing behind us chirped in.
"Look," the chief said, handing me his phone. It was a Facebook post full of pictures of bodies, the alleged Buddhist victims of Arsa attacks. They were all shockingly mutilated: a dead pregnant woman with unborn twins ripped out of her lying on reddened grass, and children hung on jungle branches. The reactions from countless Buddhist users on Facebook were intensely strong.
"You don't need to kill someone like that," the monk said, shaking his head. "The leader of the Rakhine army is a good man," another said. "He saved many Buddhists."
"What do you want for the future of Rakhine?" I asked the monk.
"We just want peace. There has been too much fighting. Too many people have died."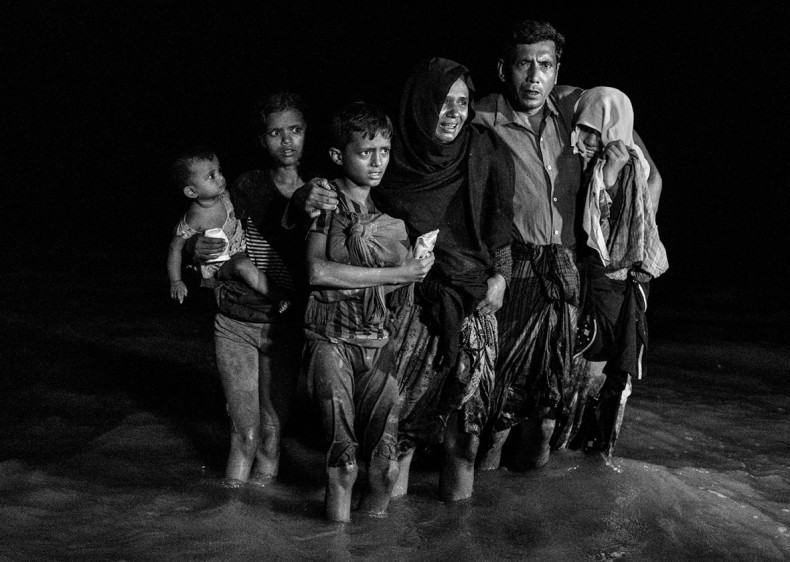 Buddhist-Rohingya tensions didn't come from nowhere
Back in London, life seems a universe away from events in northern Rakhine State, which are now displaying clear dimensions of genocide.
I am increasingly concerned about the huge refugee camps conglomerated on the Bangladesh border, sheltering injured, exhausted, and broken Rohingya families. There is real danger of radicalisation here.
To understand and de-escalate this crisis, it is vital to acknowledge the longer-term gestation of these ethnic tensions. This situation has not emerged out of nowhere. It metastasized in plain sight, festering after inter-communal violence in 2012.
Much greater attention needs to be given to the catalytic role of social media in deepening such tensions since then. Ignoring the history of Buddhist grievances risks further alienating this group, compelling it to support future military initiatives and propaganda.
Sanctions against Myanmar's military leadership seem unlikely due to geopolitical competition around the country. Any international solutions must support the emergence of Myanmar's fragile democracy and Aung San Suu Kyi's pivotal role in it.
Without such support, democracy in Myanmar may die a still-birth.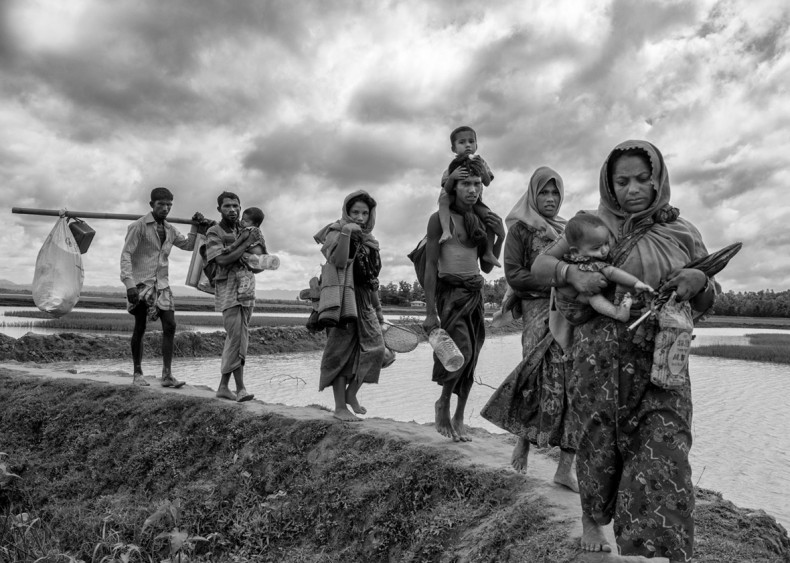 James and his organisation IDEAS Globally are holding a talk on Wednesday 25 October at 6pm entitled 'Witnessing Myanmar's Rakhine Crisis' at University College London. Reserve your place here.