Islamic State (Isis) are no longer able to transport personnel and weaponry reinforcements between east and west Mosul after the final bridge connecting the two sides of the city was hit by a US-led coalition air-strike.
The infrastructure, known as the Old Bridge, crosses the Tigris river bisecting Mosul.
Built by the British after World War One, it remained one of city's most familiar landmarks before being damaged in the strike on Boxing Day (26 December).
The Old Bridge is the last of five to be destroyed during the battle for Iraq's second-largest city that has remained under Isis control since 2014.
On Tuesday (27 December), the Isis-aligned news agency Amaq released a statement and later posted images confirming that the bridge had been hit in a targeted coalition attack.
Brigadier General Haidar Al-Obaidi from the Iraqi Counter-Terror Services, a top Iraqi military unit fighting in Mosul, confirmed that the bridge's destruction will make it "impossible" for Isis to move reinforcements between the two sides of the river.
The strike is the latest in a number of "terrain denial" exercises intent on targeting infrastructure rather than terrorist cells.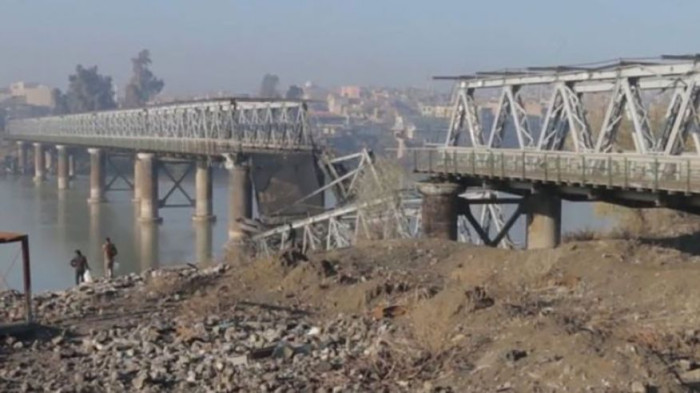 Coalition spokesman Colonel John Dorrian promised the bridge would be rebuilt by Iraqi forces as soon as Isis is defeated in Mosul.
However, Dorrian admitted to The Washington Post that this may take time, as the Iraqi army have paused to conduct "a tactical refit to re-position forces, resupply and assess their operations before they push further."
In a press conference, Iraqi Prime Minister Haider al-Abadi said the offensive was continuing. "God willing, there will be good news in the coming days," he said, reports The Independent. The coalition aims to move on to the Isis' "capital" Raqqa, in Syria, should Mosul be recaptured.