The militant group the Islamic State in Iraq and Syria (Isis) has claimed responsibility for a double suicide attack in the city of Homs which has killed 22 and wounded in excess of 100. In a co-ordinated attack designed to inflict maximum casualties in the government-held city, one suicide bomber detonated his device in a car at a checkpoint in Hom's al-Zahraa district.
A second comber wearing a suicide vest, who had just exited the car, then targeted onlookers who gathered to watch the aftermath, according to AFP. The Syrian Observatory for Human Rights put the death toll from the explosions at 21, with 13 members of government forces among those killed.
IS (Daesh) claimed responsibility for the twin blasts in in the immediate aftermath of the attacks, saying 30 people had been killed. Zahraa, majority Alawite area in Homs loyal to the Assad regime, has been targeted in a series of Daesh attacks. In mid-December 2015 19 people were killed in Zahraa in multiple IS blasts.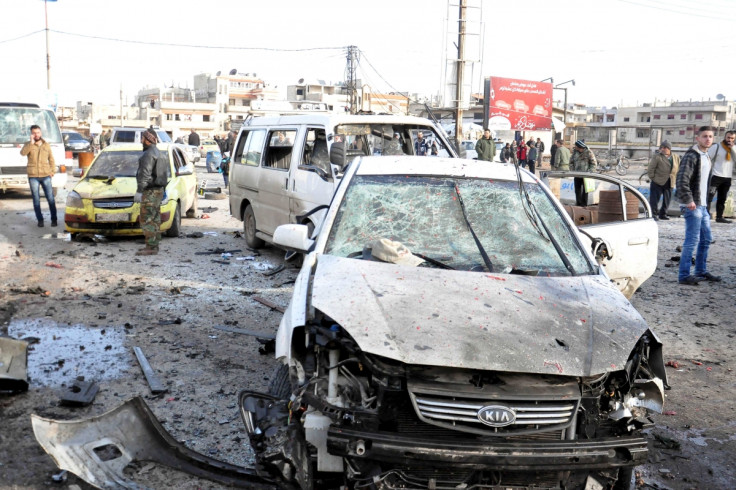 Days earlier rebel fighters handed over the last opposition held areas of the city, one of the first to rise up against Assad in 2011. Fighters linked to IS and the al-Qaeda affiliate Jabhat al-Nusra were the first to leave the al-Waer district under an arranged truce with Damascus. The UN-brokered deal allowed 800 civilians to leave the city and move into rebel-held areas.
These kinds of small local truces are the foundations upon which the UN and the international community hope to build a lasting peace in Syria. A marathon of six-month-long talks are due to start in Geneva on Thursday (28 January).
However, the opposition has said it will boycott the talks unless Russian bombing over Syria come to an end. Moscow's intervention in the country to prop up the beleaguered Assad regime has skewed the momentum of the country's civil war. Britain has condemned Russia's bombing, saying it has resulted in 1,208 civilians killed and 5,789 injured, including 1,136 children since the end of 2015.