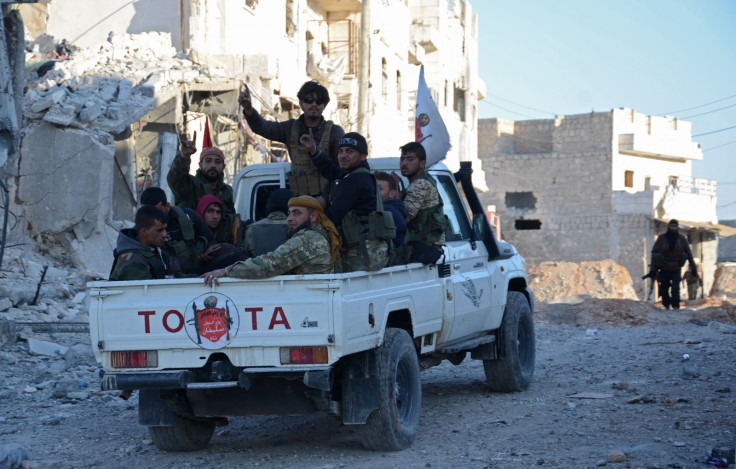 A car bomb killed at least 60 and injured 100 at a checkpoint near Free Syrian Army (FSA) headquarters, north-west of the town of al-Bab, captured from Isis on 23 February by Turkey-backed Syrian rebels.
The vehicle, loaded with explosives, blew up in the village of Sousiyan at a security post where civilians had gathered seeking permission to return to al-Bab, Turkish news agency Anadolu reported on 24 February.
The dead included FSA fighters and civilians. Some of the injured are in critical condition and the death toll is expected to rise.
The Isis-controlled town was proclaimed fully under control of the Turkey-backed rebels yesterday, 23 February, but an FSA commander told the Turkish media they were still clearing the area of landmines and booby traps planted by Isis.
The jihadists admitted defeat in a statement issued to their news channel, Amaq news agency. Just 25 kilometres (15 miles) south of the Turkish border, al-Bab was the last jihadist stronghold in the province of Aleppo.
The Turkey-led anti-Isis operation "Euphrates Shield" in northern Syria was launched on 24 August 2016 and the town of al-Bab was reached on 11 February.
The British-based Syrian Observatory for Human Rights (SOHR) has recorded hundreds of civilians were killed by Turkish forces as they advanced and entered the city.
"Euphrates Shield" sees the Turkish military supporting FSA fighters with artillery and airstrikes. Isis is not the only target of the operation, as Turkish airstrikes have also hit the Kurdish-led forces of the autonomous region of Rojava in northern Syria, supported by the US as they advance against the Isis-held city of Raqqa. Turkey lists groups such as the Kurdish People's Protection Units (YPG) as terrorists affiliated to the outlawed Kurdish Workers' Party (PKK).
A second car bomb exploded 2km (1.2 miles) south of the village later on 24 February, killing at least 8 people, according to the Associated Press. Isis claimed responsibility for the attack through a statement posted on their news channel Amaq.