With its sophisticated propaganda and militants under its banner shedding innocent blood on the streets of cities as far apart as Baghdad and Paris, Islamic State (Isis) has grabbed global headlines like no terror group before.
But there is another jihadist group in Syria which has drawn hundreds of westerners to its cause whose threat could be equally potent in months ahead, experts have warned.
Jabhat al-Nusra, or the Support Front for the People of Al-Sham, is al-Qaeda's franchise in Syria, and controls much of Idlib province in the north of the country, having seized capital Idlib from Syrian government forces in October 2015. In August, the group humiliated the United States, kidnapping the leaders of a moderate rebel group trained by the US in a $30 million (£19 million) programme minutes after it crossed the border into Syria from Turkey, and showing off US weaponry it seized.
The group was initially part of IS (Daesh), but split with it in 2013, reportedly believing that IS's penchant for extreme brutality would alienate Muslims it needed to win to its cause. After the split, the group was annointed al-Qaeda's official affiliate in Syria, and subsequent clashes with IS in Deir ez-Zour province have left hundreds dead on both sides.
"They don't believe the way Isis came about is legitimate, they don't believe the Caliphate is legitimate, or the Caliph is legitimate, and the way Isis have started targeting other mujahideen is a deal breaker for them. The common enemy should Assad or the West, they think Isis is turning against other jihadi groups," said Amarnath Amarasingham, who is researching foreign jihadists in Syria as part of a project at Dalhousie University in Canada.
Westerners joining al-Nusra in their hundreds
Hundreds of westerners have joined the group in Syria. Unlike IS, which puts its foreign fighters centre stage in its propaganda operations often with their identity undisguised, al-Nusra's foreign fighters keep a lower profile, often appearing masked in propaganda films and not taking part in the type of on-camera brutality that made IS jihadists like Briton 'Jihadi John' infamous worldwide.
Al-Nusra attempted to lure recruits through depicting the group as the inheritor of a 'purer' jihadi tradition, corrupted by brash upstarts IS. "They don't put out as much [propaganda] as Isis but when they do it is a subtle jab at the Islamic State at all times," said Amarsingham. "The tone and content of the videos is all about how groups like [al-Nusra] are carrying on the jihadi tradition."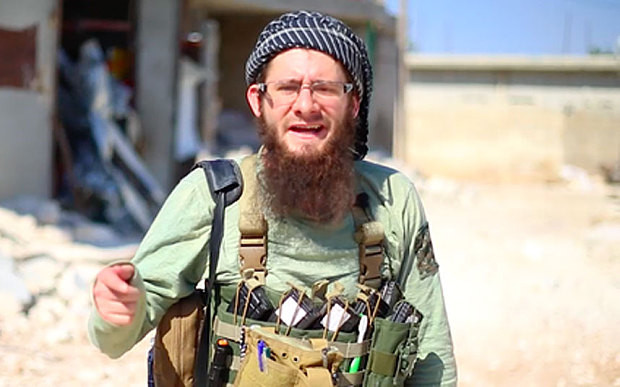 Amarasingham knows of approximately 50, possibly more British jihadists currently fighting for al-Nusra in Syria. One of them, who fights under the jihadist moniker Abu Basir al Britani, was recently exposed as former Home Counties Catholic schoolboy Lucas Kinney, the son of a Hollywood director.
Another British fighter with the same jihadist name was recently shot dead while fighting against Syrian regime and Russian forces near Latakia. Abu Basir's real name is unknown, but he is believed to be from London and to have studied law and sociology in the UK and entered Syria in 2014. Conversations Amarsingham had with Abu Basir on social media over the course of a year provide fascinating insights into the everyday life and mindset of British jihadists fighting for the group.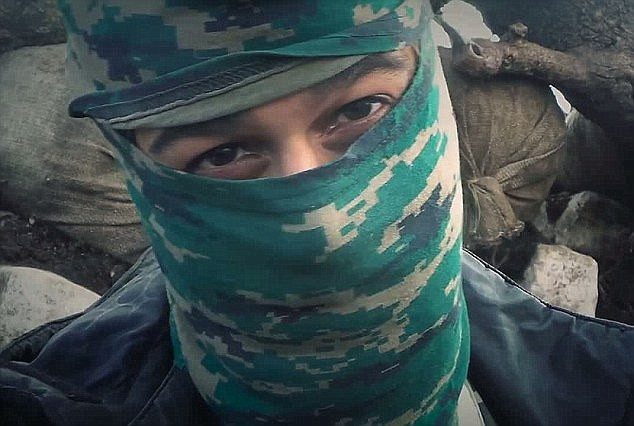 Abu Basir told Amarsingham he soon became disillusioned with IS after fighting with affiliated British jihadist group Jawat e-Tawheed: "He was not a big fan of Islamic State. He was publicly against them and their policy of recruiting women and children and families and bringing them to the warzone, he thought that is not what they should be doing," said Amarsingham.
Amarsingham's conversations with Abu Basir painted a picture of days spent on guard duty for up to 24 hours at a time, interspersed with prayer sessions. Occasionally he would be sent to the front line, where he would act as a cameraman.
In one film he posted online, with an AK-47 resting on his knees, he described the privations of life on the front line, such as having to 'go natural' because of the lack of toilet facilities.
"From time to time you have to keep peering up but the problem is that if you stick your head up for too long, it is likely to take your head off," he said as he glances over the parapet in the film.
For Abu Basir, anti-Western hatred took second place to hatred for the Assad regime.
"For him, it was mostly to be part of the revolution and the fight against the Assad regime and their slaughter of Sunni Muslims. He was not against attacking the West but was not something he was primarily interested in. He said when attacks do happen they had it coming. It is not that he was criticising attacks against the West it's just that wasn't his priority," said Amarsingham.
Jeff Weyers, a researcher with the Tactical Decision Making Research Group at the University of Liverpool, said that among the largest contingent of foreigners fighting for al-Nusra are Belgians, with some estimates putting the number of Belgians fighting in Syria as high as 300. The country has been described as one of the hotbeds of Islamic extremism in Europe after several members of the IS cell who massacred 130 people in Paris on 13 November were found to have lived in the country. Many Belgian al-Nusra fighters were sent to Syria by extremist group Sharia 4 Belgium, whose leader was jailed in February for terror-related offences.
Unlike IS, whose propaganda output is often removed soon after being posted by increasingly vigilant social media companies, al-Nusra still operates separate Twitter feeds for each of the nine Syrian provinces in which it is active. Their propaganda is often spectacular, with one film recording a tank attack on enemy positions overhead using a drone.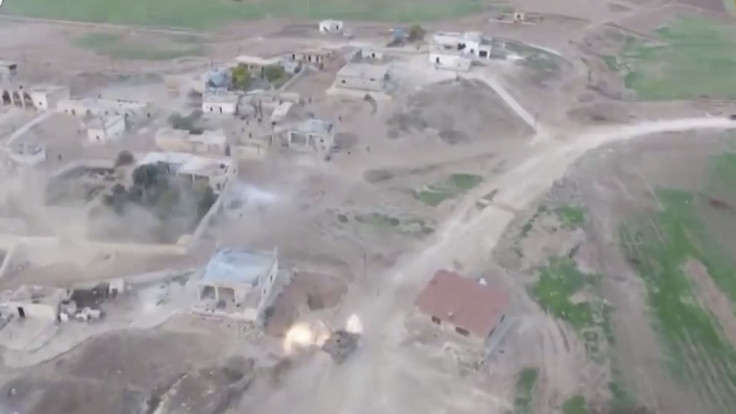 A network of al-Nusra extremists, De Basis, named in Belgian after al-Qaeda or 'The base', had its own YouTube channel through which it sought to lure recruits from the Low Countries, while the group's propaganda chief, Abu Saeed al-Halabi, is believed to be from the Netherlands.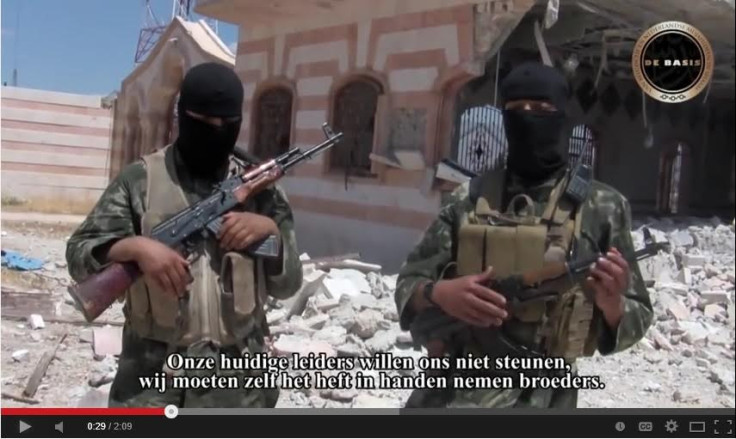 "The support of was around 2,000 individuals from Holland and Belgium alone. That is not to say they are all in Syria. In Belgium there is still a very large al-Qaeda support network," said Weyers.
"If you had al-Qaeda with nine different accounts there constantly then Twitter would probably be a little more strict about them, but because this is an affiliate group they do not seem to police them the same. You have them operating nine different accounts and no-one seems to care," he said.
Al-Nusra has thus far focused its operations on overthrowing the Assad regime and battling other rebel groups. There were even reports that the group had split from al-Qaeda, which it denied. In May, al-Nusra leader Mohammad al-Jolani told al Jazeera that the group had no specific mission to target the West. However supporters lauded the recent Paris terror attacks on social media, and have pledged attacks in Russia in response to bombing raids launched by the country.
Though the UK is restricted to attacking IS positions in the motion passed this week by the House of Commons, the US has targeted al-Nusra positions in Syria, including shadowy affiliate Khorasan, which the Pentagon claims was charged with planning terror attacks against targets in the West including airliners.
Militants could be active within the UK
Weyers warned that if progress is made in peace talks between Syrian rebel factions, superpowers, and the Syrian government, the group's priorities may soon change as it finds itself squeezed from territory it once dominated.
"You are going to see that come to head in the next year or two. Several things are going to happen: if they do start to come to a negotiated deal, you have Jabhat al-Nusra that still retains a large portion of an entire province, and I can't see any situation in which they will allow al-Qaeda to have a province in Syria, at least from western perspective. When pressure starts to build on them in Syria, that is when you will see al-Qaeda perhaps start to commit external attacks, to send the message to leave us alone."
It is not known how many al-Nusra militants have returned from Syria to the UK. Security services say the overall number of fighters to have returned from Syria could be as high as 500.
"The question becomes when you have the foreign fighters from the group now returned home they are still highly radicalised, and if they are not fighting in Syria is there the possibility of them resuming the fight locally?" said Weyers.
Another factor that could inspire the group to commit terror attacks in the West is its burgeoning terror rivalry with Isis, with al-Qaeda-linked militants in Mali killing 19 in an attack on the Radisson hotel in Bamako only days after the IS-instigated 13 November Paris attacks.
"I think attacks on the West are one arena of competition between Islamic State and al-Qaeda. Following the Charlie Hebdo attacks, the Islamic State will feel the need to respond with a similarly spectacular attack on the West. And then al-Qaeda will feel it has to do that as well. The authenticity of jihad will be who can legitimately and most spectacularly attack the West and that will be a point of competition between Isis and al Qaeda," said Amarsingham.