Isis: US churches launch 'orange jumpsuit' campaign for Christians persecuted by Islamic State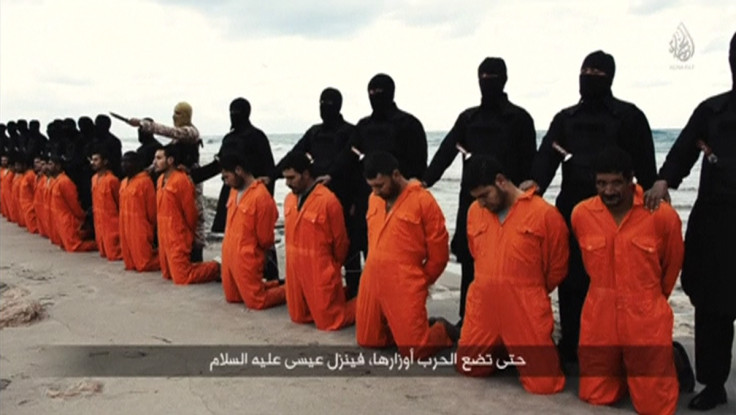 Christians across the US are wearing orange to services as a mark of solidarity with Christians being persecuted by Islamic State (Isis) in the Middle East.
Initiated in April, the campaign has spread throughout the US under the #orangejumpsuits hashtag, with the colour of the jumpsuits worn by 21 Egyptian Coptic Christians who were filmed being beheaded by masked IS militants on a Libyan beach in February chosen as the movement's symbol.
The campaign was initiated by Reverend Patrick Mahoney, of the Church on the Hill in Washington DC, who has urged the US government to do more to help the victims of IS. The terrorist group has driven out some of the most ancient Christian communities in the world in Syria and Iraq, and released images of churches and crosses being destroyed.
"The campaign came about after I went to the Middle East and met with persecuted Christians and Christian leaders and the one thing they asked is 'please don't forget us'," Rev Mahoney told IBTimes UK. "We began to reflect and to pray about that. We asked how, in a practical way, can we help our brothers and sisters?"
Mahoney said he had been astonished by the success of the campaign, with word spreading over social media and not only churches but synagogues and Muslim groups holding their own events.
"We look on our TV of the tragic beheadings and violence and there is a feeling of powerlessness that comes over us. We felt we wanted to do something tangible, and wearing an orange prison jumpsuit in public draws massive attention. It is a way for people to say 'we won't sit idly back, we will engage and look for possible solutions'," he said.
"This is about solidarity not just with Christians but with all faith communities, for example Yazidis and even other branches of Islam that are being persecuted."
Rev Frank Karwacki of Our Lady of Mount Carmel Catholic Church in Pennsylvania urged his congregants to wear orange ribbons and clothing after reading about the campaign online.
He said he had been in contact with churches in states from California to Arkansaw organising their own events, and even a rabbi in Toronto who planned to dye his beard and yarmulke orange.
Karwacki urged churches in the UK to join in the campaign.
"The UK has always been at the forefront of challenging tyranny, in World War II they fought the great evil of Nazism. I would ask those in the UK to show their support," he said.
Mahoney is planning an event at the White House in September, with protesters asked to wear orange jumpsuits to call for the US to grant asylum to more people fleeing religious persecution in the Middle East, step up aid efforts for refugees and urge the Obama administration to take a more proactive role combating "faith based genocide".
© Copyright IBTimes 2023. All rights reserved.