Rima Karaki shuts down interview with Islamist scholar Hani al-Sibai after he tells her to shut up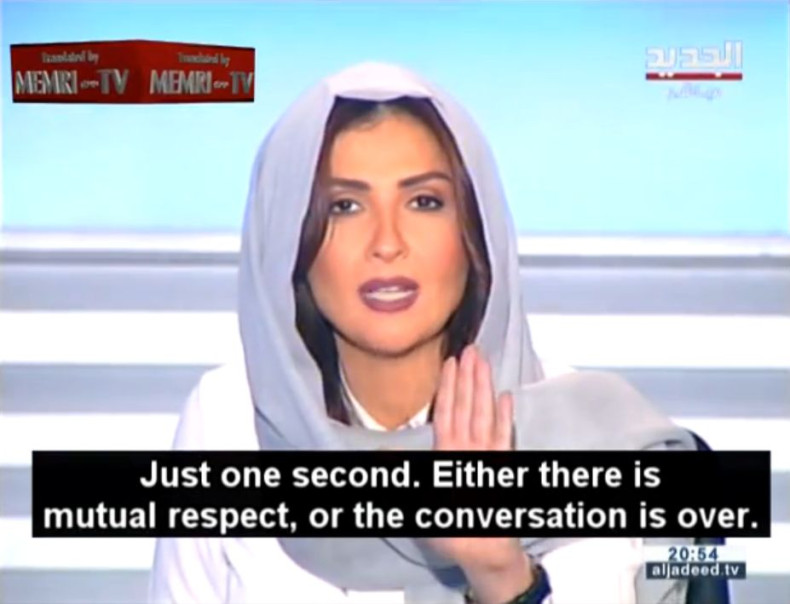 A video of Lebanese news host Rima Karaki cutting short an interview with London-based Islamic scholar Sheikh Hani al-Sibai after he told her to "shut up" has gone viral. Karaki, a news presenter on al-Jadeed and a university professor, halted the conversation with al-Sibai as he scolded her for having interrupted him.
Referring to the fact that recent reports suggest Christians are joining terror group Islamic State (Isis), al-Sibai was explaining that this phenomenon also occurred in the past. However, Karaki urged him to focus on current issues as the interview slot was about to end and there were other questions al-Sibai could answer.
"Don't cut me off, I will answer as I please," said an angry al-Sibai, who then added: "You think you are so high and mighty?"
Karaki replied: "In this studio, I run the show. If you have time, you will answer all the questions. But I will be the one to decide. "
Al-Sibai answered by saying that Karaki could "decide as much as you like, but I will say whatever I want. Shut up so I can talk. It's beneath me to be interviewed by you. You are a woman who..."
At this point, al-Sibai's microphone was cut off and Karaki said: "Either there is mutual respect, or the conversation is over."
The video, posted on YouTube on 4 March, has been viewed more than four million times. Twitter users have been posting comments praising Karaki for how she handled the situation.