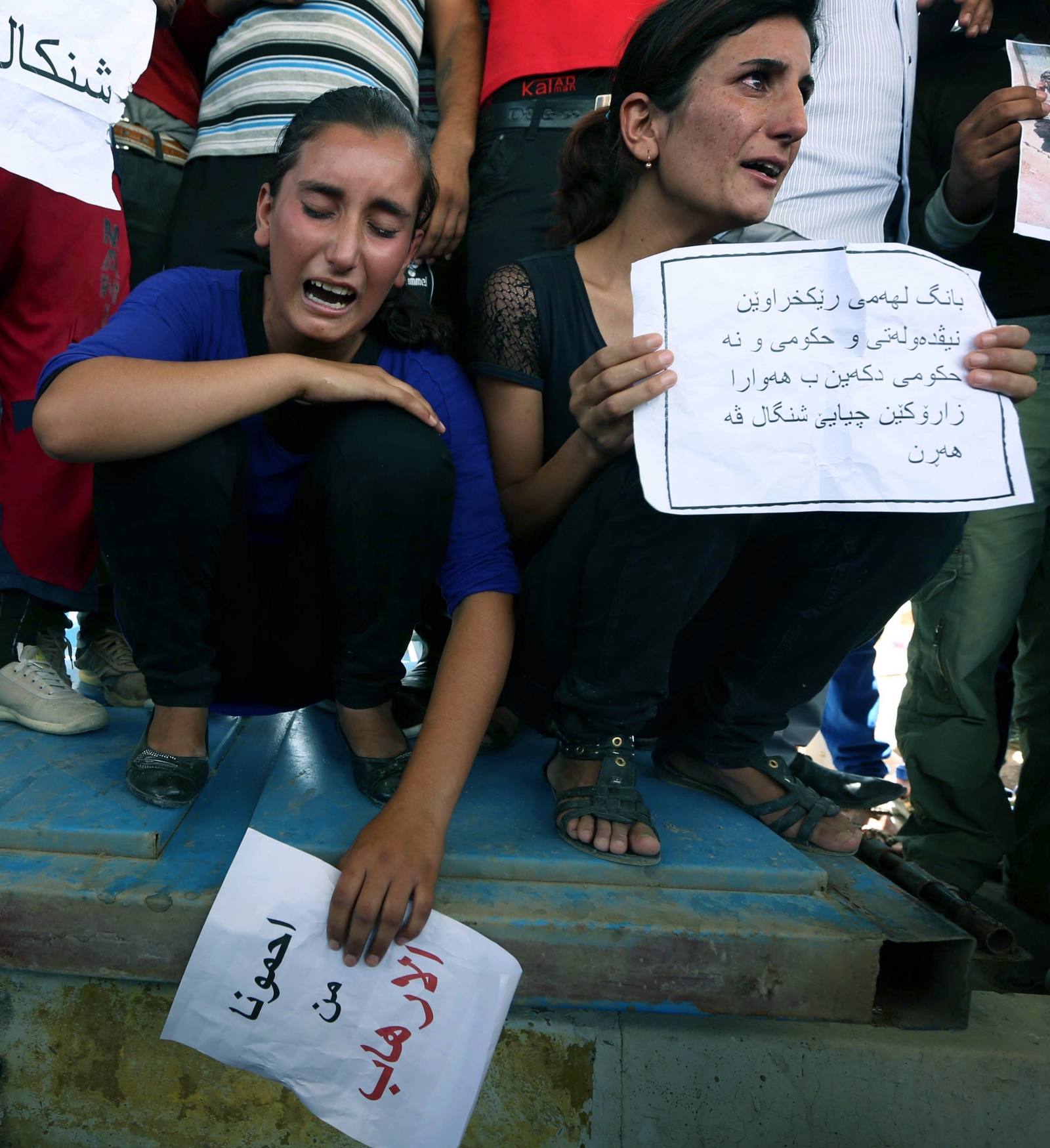 Islamic State militants have killed 500 people – burying some women and children alive in a mass grave – the Iraqi human rights minister has claimed.
Reuters reported that the remains of hundreds of Yazidis – a Kurdish-speaking ethnic minority – were discovered in the north of Iraq where the Islamic State fighters staged a major offensive.
Iraq's human rights minister Mohammed Shia al-Sudani has told Reuters that there is evidence that the Sunni militants had thrown the dead Yazidi dead into mass graves. But they had also buried some women and children alive.
"We have striking evidence obtained from Yazidis fleeing Sinjar and some who escaped death, and also crime scene images that show indisputably that the gangs of the Islamic States have executed at least 500 Yazidis after seizing Sinjar," Sudani said. "Some of the victims, including women and children were buried alive in scattered mass graves in and around Sinjar."
He added that about 300 women have also been forced into slavery by the Islamic State forces.
The latest reports come after Islamic State militants threatened to execute 300 Yazidi families in northern Iraq. Yazidi sources claimed Islamic State threatened to slaughter them unless they convert to Islam.
There are now daily reports of kidnappings, bombings and execution-style killings in many cities, towns and villages, linked to the Islamic State's advance.
Advance of the Islamic State
The Islamic State, which sees Shi'ite Muslims – who form a minority in Iraq – as infidels who deserve to be killed, has met little resistance. US-trained Iraqi soldiers have been fleeing as the Islamic State's Arab and foreign fighters sweep through northern Iraq, leading to Kurdish and Shi'ite militias to step in, with limited success.
The Sunni militants routed Kurds in their latest advance, seizing the militia's tanks, artillery and weapons.
After hammering Kurdish forces last week, the militants are just 30 minutes' drive from Arbil, the Iraqi Kurdish capital, which until now has been spared the sectarian bloodshed that has scarred other parts of Iraq for a decade.
The possibility of an attack on Arbil has prompted foreigners working for oil companies to leave the city and Kurds to stock up on AK-47 assault rifles at the arms bazaar.
In their latest sweep through the north, the Sunni insurgents routed Kurdish forces and seized a fifth oil field, several more villages and Mosul Dam – which could give them the ability to flood cities or cut off water and power supplies.
Worldwide outcry
President has criticized Iraqi Prime Minister Nuri al-Maliki's Shi'ite-led government for failing to empower Iraq's Sunnis and encouraging Islamic State's rise.
France's government has also joined calls for Iraq's feuding leaders to form an inclusive government capable of countering the militants. "Iraq is in need of a broad unity government, and all Iraqis should feel that they are represented in this government," Foreign Minister Laurent Fabius said.
President Barack Obama said on Saturday that U.S. air strikes had destroyed arms that the Islamic State, which has captured swaths of northern Iraq since June, could have used against the Iraqi Kurds, but he warned that there was no quick fix for the crisis that threatens to tear Iraq apart.
Pope Francis has also spoken against the violence in Iraq, urging the international community to find a political solution "to stop these crimes." He is also sending Cardinal Fernando Filoni, the Vatican's ambassador in Baghdad during the Iraqi war, to Iraq on Monday.