More than 30,000 Iraqi Yazidis, mainly from Sinjar, have crossed into an area of northern Iraq controlled by Kurdish security forces after a week-long journey that took them through Syria.
The harsh conditions of the Sinjar mountain range in mid-summer have taken scores of lives. Children who died of thirst were left behind; some exhausted mothers abandoned living babies, as thousands of Yazidis trekked across a rocky mountain chain in temperatures over 100 degrees Fahrenheit (38 degrees Celsius), crossing into neighbouring Syria, and then looping back into Iraq to reach safety at the Bajid Kandala camp near the Iraq-Syria border.
Other Yazidis have settled in refugee camps in Syria: so desperate is their situation, they have sought safety in a country aflame in a civil war.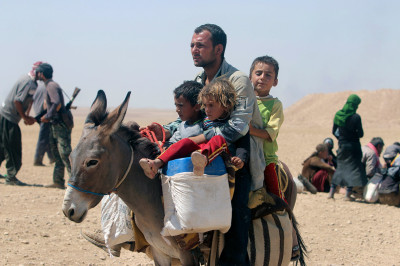 The Yazidis who left the Sinjar mountains made the journey to Iraqi Kurdistan, in the fear of kidnap and death at the hands of the Islamic State who has already reportedly killed 500 Yazidi, burying them in mass graves.
Their safe passage, assisted by the YPG Syrian Kurdish rebel faction and US airstrikes, was secured on the northern side of the 60-mile ridge of Mount Sinjar. But thousands are still believed to be trapped on the southern side, unable to reach the safe area.
Islamic State extremists continue their sweep of Iraq, seizing territory. They have already forced the expulsion of Iraqi Christians, Shiite Muslims and adherents of the tiny Shabak faith.