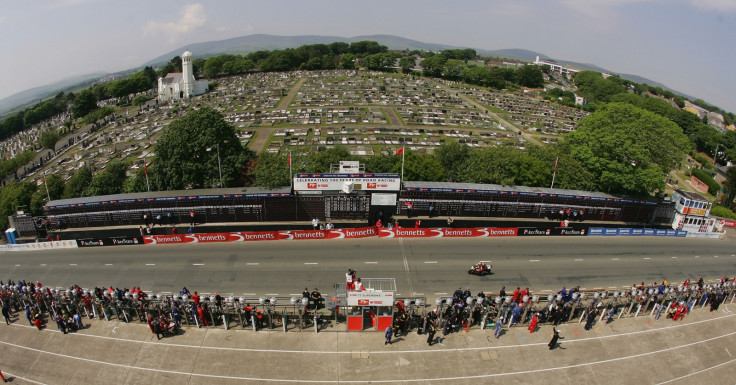 Thousands of bikers at the Isle of Man TT took part in a tribute lap of the course in remembrance of all competitors who have tragically lost their lives while racing. Initially launched in 2014 after the death of TT racer Simon Andrews during the North West 200 in Northern Ireland, Claire Jupp, Andrews' sister told the BBC this year would have "added poignancy" after the deaths of a number of racers during events throughout 2016.
Two men, Billy Redmayne, 25, and Malachi Mitchell Thomas, 20, both sustained fatal injuries after accidents while racing in events in April and May, respectively. Additionally, on 4 June, during the opening day of the Isle of Man TT competition, another two competitors died in separate incidents
Officially announced by ACU Events, which organises the races, sidecar racer Dwight Beare, 27, crashed near the Rhencullen section of the Mountain Course. Paul Shoesmith, 50, died in a crash on Sulby Straight during solo practice.
In public statements posted to its website and social media pages, ACU offered condolences to the family and friends of the fallen racers. Shoesmith's partner, Janet Cowden, posted a statement to Facebook paying her own tribute to the racer who has been described as a "veteran" of the TT event.
As reported by The Mirror, she wrote: "Yesterday was the worst day of my life. I lost my partner, my babies' daddy, my best friend and my soulmate. Life with Paul wasn't always easy, living it in the fast lane and dealing with his countless projects and gadgets. He drove me insane at times and we fought like cat and dog but in the end we always had each other's backs and I loved him more than words."
Last year, more than 5,000 motorbike riders took part in a tribute lap during the prestigious 37.73-mile Isle of Man event. Jupp said: "It is very important that fallen racers are not forgotten. Last year the procession stretched back for 15 miles, which shows the respect that exists."