The ashes of a British WW1 veteran hero are to be reburied after a state funeral in Israel.
John Henry Patterson, who was known as the 'Lion Hunter of Zion', gained iconic status as the first commander to lead Jewish forces onto the field of battle for two millennia during the Great War - playing a critical part in the history of Zionism.
In his latter years, Patterson worked passionately for the creation of a Jewish state. He died in 1947.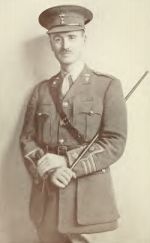 Israeli Prime Minister Benjamin Netanyahu, who is attending the state funeral, said the Zion Mule Corps which Patterson commanded in the Middle East was the foundation of the Israel Defense Forces.
In 1898 while Patterson was dispatched by the British East Africa Company to oversee the construction of a railway bridge over the Tsavo River, Kenya, he killed two lions after reports of the animals preying on terrified railway workers.
The 6ft Irishman then went on to tell the story in a bestselling book, The Man-Eaters of Tsavo. His exploits as a soldier and big-game hunter in India inspired three Hollywood movies - Bwana Devil (1952), The Killers of Kilimanjaro (1959) and The Ghost and the Darkness (1996).
Denis Brian's The Seven Lives of Colonel Patterson: How an Irish Lion Hunter Led the Jewish Legion to Victory, described Patterson as someone who "had the gift of the gab, a lively sense of humour, a friendly and optimistic nature, and an air of command, reinforced, perhaps, by the Bible he sometimes carried in one hand and, no doubt, by the gun he carried in the other."
It was Patterson's wish to be interred alongside other Jewish Legion fighters.