Israeli Prime Minister Benjamin Netanyahu has instructed the Israeli Defense Forces (IDF) to prepare for a possible ground offensive in the Gaza Strip during a meeting at the Defense Ministry in Tel Aviv, according to a senior Israeli official.
"The prime minister's instruction by the end of the meeting was to prepare for a thorough, long, continuous and strong campaign in Gaza," the senior Israeli official told Haaretz.
"The prime minister instructed the army to be ready to go all in. A ground offensive is on the table."
The meeting was attended by Defense Minister Moshe Ya'alon, Chief of Staff Lieut. Gen. Benny Gantz and Shin Bet Chief Yoram Cohen among other defence officials.
During the meeting, it was decided that additional reservists are to be called up alongside the 1,500 mobilised earlier this week.
The official said that the operation in the Gaza Strip, codenamed 'Operation Protective Edge', is to strike a big blow to the capabilities of Hamas and restore calm in southern Israel where rocket fire has been targeted.
"Our increased response will be well felt on the ground," he said.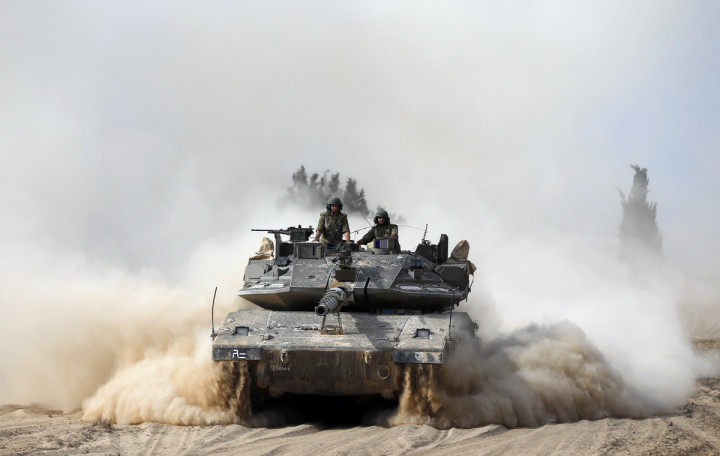 Nine Palestinian militants were killed this week by Israeli air strikes on the Gaza Strip in what an IDF claimed was in retaliation for Hamas rocket and mortar fire.
Hamas continued to fire rockets in response to what it claimed was "Zionist aggression". This was followed by more Israeli air strikes which injured at least 15 Palestinians, including two women and a child, according to local media reports.
Tensions in the region are at their highest for years following the murders of three Israeli teenagers in the occupied West Bank and the revenge killing of a Palestinian teenager in Jerusalem.
Police have arrested six Jewish suspects in connection with Mohammed Abu Khudeir's murder, believed to be "because of his nationality".
However, an Israeli manhunt is continuing for two suspected Hamas members in the case of the three Israeli teenagers murdered while hitchhiking home near Hebron. Hamas has denied all involvement in their deaths.
Following the deaths of Hamas militants in Israeli airstrikes, the group's spokesman has promised that Israel will "pay a tremendous price".
The sudden escalation comes after a ceasefire was mooted following Egypt-brokered talks between the two.
It is believed that the designated terror group had offered to stop its rocket attacks if Israel halted its aerial bombardment of the Gaza Strip.