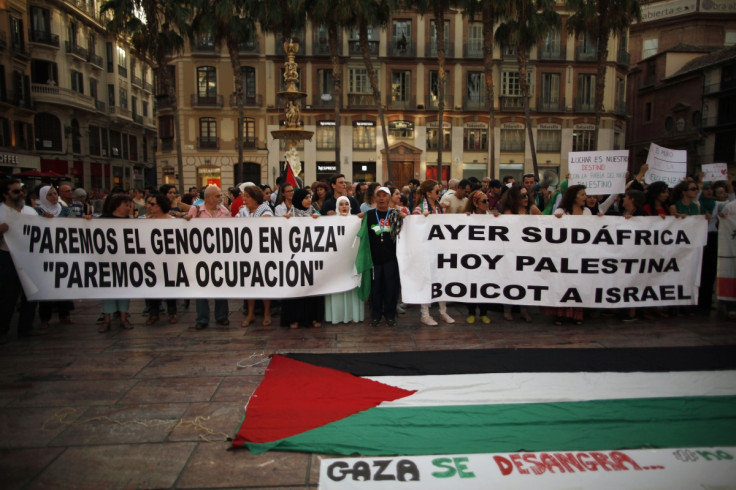 Israel's top trade envoy says the Boycott, Divestment and Sanctions (BDS) movement – which calls for banning Israeli products over the country's treatment of the Palestinians – is having no effect on Israel's trade with the outside world.
Amit Lang, director general of the Israeli Ministry of the Economy, told IBTimes UK major investments by US billionaire Warren Buffett and tech giants Intel and IBM show the BDS was not persuading investors to shun Israel or Israeli companies.
His comments come soon after the School of Oriental and African Studies (SOAS) broke ties with the Hebrew University in Jerusalem in an academic boycott and European lawmakers called for the suspension of the EU-Israel trade agreement in November 2014.
The EU recently began labelling products produced in Israeli settlements in the West Bank, which are considered illegal under international law, while drinks manufacturer SodaStream closed its factory in the settlement of Mishor Adumin.
The firm claimed the move was for "commercial reasons" but BDS activists claimed their campaign had forced the company's hand.
But Lang, who was in London meeting with major investors and fund managers in March, argued that in business money talks, and the BDS movement had had no real impact on Israel's trade links with Europe or the wider world.
"It is a challenge but I would remind you that the government of the UK is opposed to this movement. We deal with it, we fight it. We try to explain that this is not the way to achieve anything in the political arena," Lang said.
"It is making a lot of noise, it is in the media a lot – it is sexy. But at the end of the day if you have a good product, businessmen want to make money... I have not seen a deal that was [abandoned] because of the BDS. I see the numbers and they speak for themselves."
Good returns for British investment funds
He added that if British investment funds could get good returns by investing in Israel's booming tech sector, he believed that high yields would trump concerns over politics.
"I am betting you that if the average British can get a 7% return [from investing in Israel], he would say f**k Gaza. I want to get my 7% at the end of the day," he said.
"Intel and Google do not have a problem with it. Warren Buffett invested $5bn in Israel. One of Intel's biggest investments has been in Israel... it doesn't seem to me that they have are very concerned with Gaza, BDS or any other political issues."
Lang also warned that if Europe decided to close off Israeli trade, the country had plenty of other options. Israel signed arms deals worth $4bn with China, Japan and India in 2013, and China is now Israel's biggest trading partner.
Japanese Prime Minister Shinzo Abe led a massive trade delegation to Tel Aviv in January and links with Korea were growing, Lang said.
"Europe is not the only market in the world," he said.
Israel's domestic economy has been one of the major issues during the current Israeli election campaign, with young people in particular angry about spiralling rents and cost of living in Israeli cities and a huge gap between rich and poor. Labour leader and prime ministerial hopeful Isaac Herzog branded Israel's economy "dysfunctional" at a campaign rally this week.
But Lang said high prices and economic imbalances were part of life in a growing economy, and countered that the government was making inroads into addressing these issues.
"There is a problem with the cost of housing. It is a problem in every growing economy. Prices are going up and demand is very high – and supply cannot always meet demand," Lang said. "But the government is working on it. Last year, 50,000 new properties were approved and demand is around 35,000 to 40,000, so we are now moving towards exceeding demand."