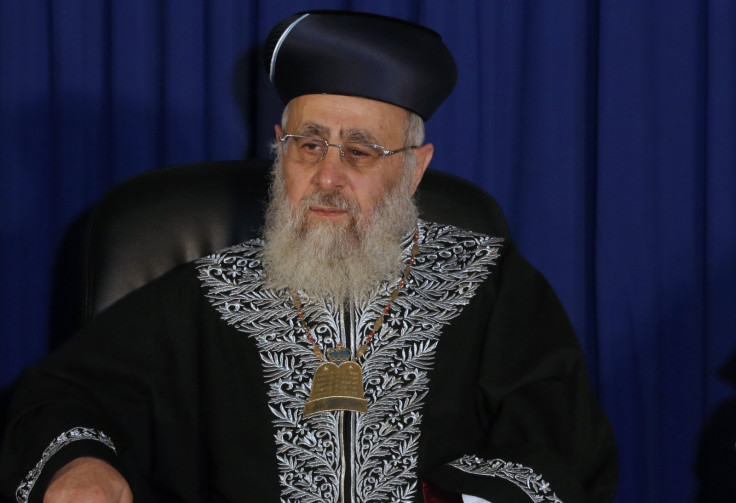 Israel's chief rabbi has some bizarre suggestions for his country's soldiers who are forced to listen to female singers. Rabbi Yitzhak Yosef told the troops that they should preferably take off their glasses to blur their view and bury their faces in a book if they are attending a ceremony in which women singers are part of.
To keep up with the Jewish laws, which prohibit men from listening to women's singing, Yosef spelt out his suggestion during a public sermon on Saturday, 27 May. The issue over Orthodox cadets' attendance in army ceremonies, where women singers perform, has been a major source of controversy in Israel in the past.
While defending the charges against ultra-orthodox Jewish community that they clamp severe restrictions on women, the chief rabbi even went on liken "immodestly"-dressed secular women to animals in his address.
"If secular people knew how much we respected women, and all that we do to preserve women's dignity: A woman is not an animal, you have to respect her honour. Dressing modestly is that honour," Yosef said, according to the Hebrew website Kikar HaShabbat.
When the topic about a situation in which male soldiers are required to listen to women singers came up, he gave an anecdote from his own past on how he steered clear of the occasion."I was at an event where a woman was singing, and what did I do? I took a little book in my hand and removed my glasses. I put the book in front of my face, conspicuously, so others around me, the prime minister and the president, could all see that I wasn't listening, that my head was in a book held close to my eyes," Yosef, who is the spiritual authority of Judaism in Israel, said.
"That's what the soldiers should do. If the soldiers are somewhere that they are ordered to hear a woman's voice — and what kind of strange order is that anyway?" asked Yosef. He continued: "Take off their glasses, put a book in front of their eyes, and show conspicuously that we're not listening, that our mind is on Torah [usually denotes five books central to Judaism]."
This is not the first time Yosef expressed similar views. In December 2016, he advocated women should not be part of the Israeli army. "All the great sages through the generations, including all Israel's chief rabbis, believe that it is forbidden for girls to go into the army," he said at that time.