Deadly clashes erupt in Jerusalem over holy site
Tensions running high due to new security measures implemented at shrine holy to both Jews and Muslims.
Between one and three Palestinian men have been killed during clashes in Jerusalem, Palestinian officials have said.
Tensions are rising in Jerusalem and the occupied West Bank due to new security measures being implemented at a shrine holy to both Jews and Muslims. The site, know to Muslims as Haram al-Sharif and to Jews as the Temple Mount, is home to the al-Aqsa mosque and the Dome of the Rock.
One Palestinian man was reported dead on Friday 21 July. Al Jazeera quoted local media as saying that the man, thought to be aged 17, was killed by an Israeli settler in the Ras al-Amud neighbourhood.
Clashes also erupted at the Qalandia checkpoint between Ramallah and Jerusalem.
AFP is now quoting Palestinian officials as saying that the death toll following clashes in Jerusalem stands at three.
Security forces fired water cannons and tear gas after rioters hurled stones and other objects outside the walls of Jerusalem's Old City.
Humanitarian organisation Palestinian Red Crescent told Ma'an, a Palestinian news agency, that at least 113 Palestinians had been injured in East Jerusalem and the West Bank.
Tensions have soared since the death of two Israeli police officers, shot dead by Israeli-Arab gunmen in the area surrounding the holy site on 14 July.
Following the attack, the police installed metal detectors at the site, triggering protests from Palestinians, who see the move as a punitive measure.
However, authorities refused to remove the metal detectors, arguing the decision came "in light of the events of recent days, which included violent riots near the gates of the Temple Mount and at other sites in villages in East Jerusalem".
Tensions further increased after Israel placed a temporary ban on Muslim men under the age of 50 from entering the holy site on 21 July.
"Entry to the Old City and Temple Mount will be limited to men aged 50 and over. Women of all ages will be permitted," Israeli police explained.
This measure is sometimes put in place to prevent clashes.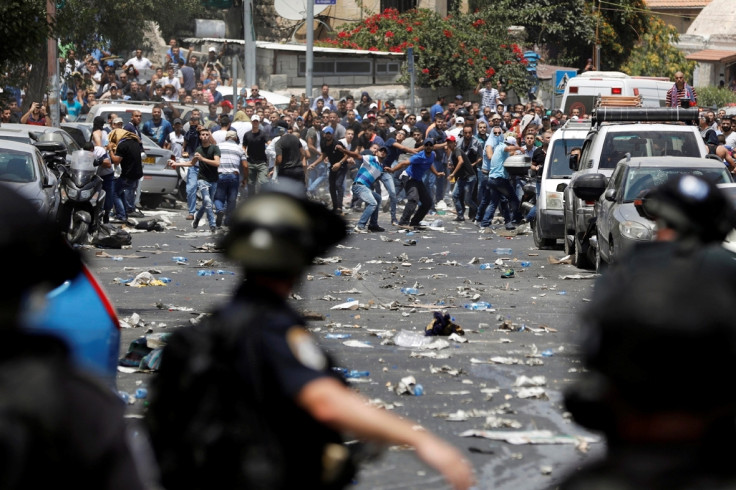 © Copyright IBTimes 2023. All rights reserved.