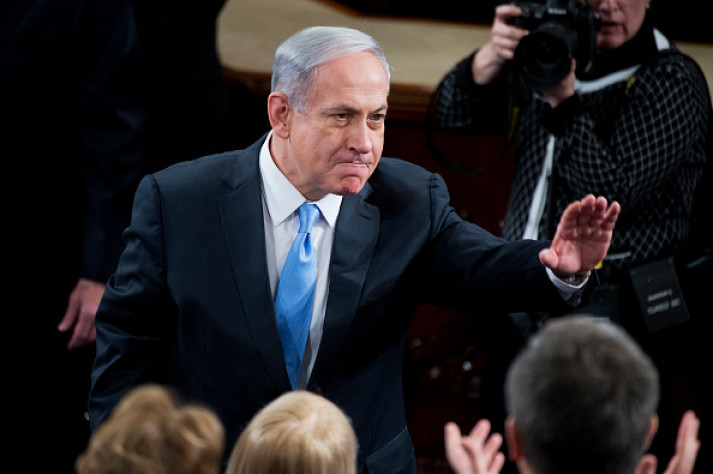 Benjamin Netanyahu's decisive victory at the Israeli elections has raised fears the Likud-led government will implement discriminatory policies against Arab citizens of Israel and put the final nail in the coffin on the peace negotiation process with the Palestinians, a spokesman for the Palestine Liberation Organization (PLO) told IBTimes UK.
Netanyahu's campaign was distinguished by a marked shift to the right - with inflammatory statements about Israel's Arab population - and outright claims he would never support a Palestinian state.
His Likud party won 30 seats in the 120-seat Israeli parliament - the Knesset - compared with 24 for the rival Zionist Unity coalition of Isaac Herzog and Tzipi Livni - meaning Netanyahu will now likely form a coalition of right-wing parties to get the 61 seats needed for a majority.
The conservative leader has started talks with parties such as the pro-settler hardline Jewish Home party, led by Naftali Bennett, in a move to begin shaping the new coalition. Upon a visit to the Western Wall in Jerusalem, he said he was "thrilled by the heavy responsibility".
But Netanyahu's racist rant against Palestinian citizens of Israel "streaming in huge quantities to the polling stations" and being bused "in droves" by left-wing organisations has caused international and domestic indignation, and threatens to put his right-wing government on a collusion course with traditional allies.
"That hate speech against any non-Jew living here will be reflected in policies we're very concerned about, not only about Palestinians in Palestine, but also Palestinians in Israel," Xavier Abu Eid, a spokesman for PLO, told IBTimes UK.
"Imagine what would happen if David Cameron came out and said it's concerning [to see] the large amount of Jews voting in British elections. It will be a scandal. But Netanyahu is able to say it and nobody responded to him in the international community."
The White House said it was "deeply concerned by [Netanyahu] divisive rhetoric that seeks to marginalise Arab-Israeli citizens" in a statement.
Others political commentators, such as Gadi Wolfsfeld, a professor of political communications at the Interdisciplinary Center in Herzliya, Israel, criticised the inflammatory comment. He was quoted by the New York Times as saying Netanyahu's campaign was "a scorched-earth policy to stay in power".
In a last-minute attempt to poach votes from right-wing electors, Netanyahu also backtracked on his historic 2009 Bar-Ilan University speech saying as long as he is Israeli prime minister, a Palestinian state will not exist.
The outright opposition to the creation of a Palestinian state will likely strain the already tense relationship with the US administration of Barack Obama and the European Union. The Palestinians are determined to file claims of war crimes against Israel's occupation of the West Bank and the 2014 war on Gaza at the International Criminal Court (ICC) in The Hague.
In the aftermath of Netanyahu's victory, chief Palestinian negotiator Saeb Erekat called the international community to rally "behind Palestinian efforts to internationalise our struggle for dignity and freedom through the International Criminal Court and through all other peaceful means".
Netanyahu's rejection of a two-state solution was also made clear by his open admission that he built the settlement of Har Homa to disrupt a potential Palestinian state between Bethlehem and Jerusalem, which the Palestinians see as their future capital.
"The emperor is naked in front of you, even for those who didn't want to see it," said Abu Eid. "If Israel doesn't want either two independent states or one state with equal rights for everyone, what they're saying is that they want apartheid. If the international community doesn't react to that, that will be very worrying."