Israel gay parade attack: Police under fire after Yishai Schlissel revealed as repeat offender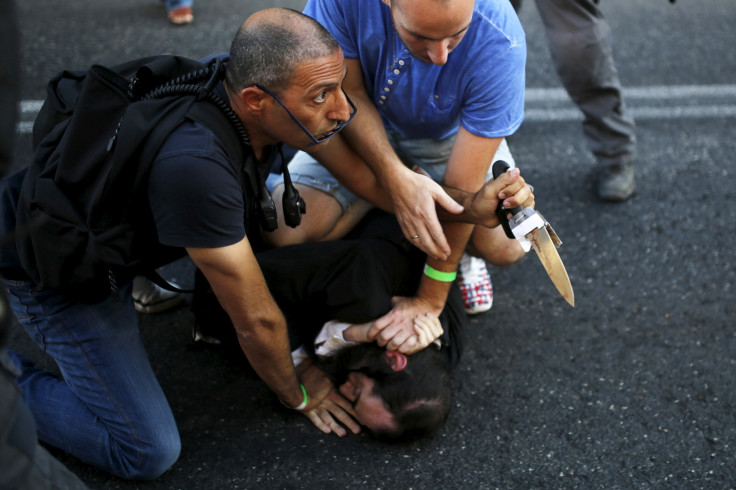 Israeli authorities are facing a barrage of criticism after it emerged that Yishai Schlissel, who stabbed six people at a gay parade in Jerusalem, was a repeat offender and was released from prison only weeks ago.
Police blamed intelligence failure for not monitoring Schlissel, who served a 10-year jail sentence since 2005 for a similar attack, since his recent release.
Schlissel, who was originally given a 12-year sentence but released two years early, had made a series of statements from prison just before his release hinting that he was planning another attack on the LGBT rally.
The attacker emerged from behind the campaigners and began stabbing them while shouting slogans before he was stopped by the police. At least two of the six injured are in serious condition.
Shortly after his release three weeks ago, Schlissel distributed hand-written anti-gay pamphlets calling the LGBT rally "shameful" and "blasphemous".
The ultra-orthodox Jew wrote: "It is incumbent upon every Jew to risk beatings or imprisonment and together to stop the desecration for the sanctity of His name. If we refrain from declaring war, they'll feel free to spread this shame all over the world."
He also gave interviews to media outlets heaping scorn on the gay parade.
The police have come under intense criticism for failing to keep Schlissel away from the rally despite all indications that he might launch an attack.
"This is something that must not happen. We will investigate this thoroughly. There will be no whitewashing," acting police commissioner Benzi Sau told reporters, adding that tough lessons have been learnt from the incident.
Public Security Minister Gilad Erdan also admitted at the same press conference that the stabbing incident had "raised difficult questions".
Meanwhile, Israeli Education Minister Naftali Bennett, also a member of the nationalist-religious Jewish Home party, said funding for the LGBT community would be boosted in response to the attack.
"I will not agree to have youth in the state of Israel afraid to go out into the street due to their way of life. We will respond to this attack with actions, not just words, in order to strengthen and provide tools to teenagers suffering from...homophobia at schools."
© Copyright IBTimes 2023. All rights reserved.