Israel: IDF Open Criminal Probe into Deadly Strikes on Palestinians at UN Shelter and Gaza Beach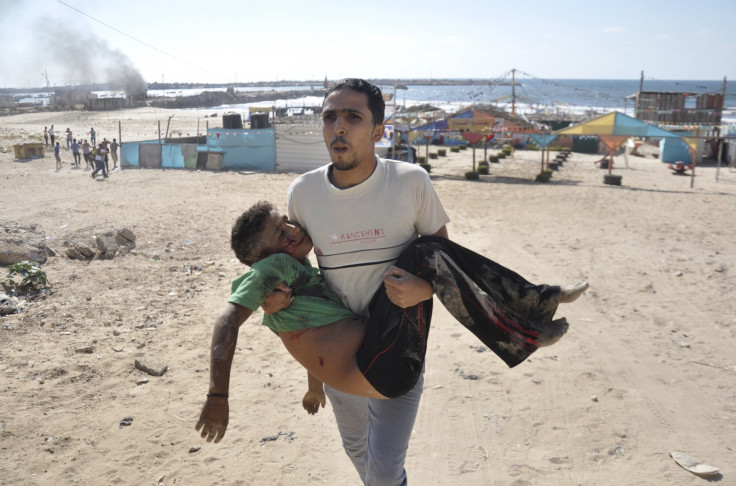 Israel's chief military prosecutor has opened two criminal investigations into several deadly strikes carried out by the Israel Defense Forces (IDF) in the recent Gaza conflict, according to local media reports.
Maj.-Gen. Dani Efroni's investigation will focus on two incidents: the shelling of a United Nations shelter on 24 July in which 15 Palestinians, including a baby, were killed; and the shelling of Gaza beach on 16 July, which killed four children.
The beach attack and shelter strike sparked international condemnation of Israeli actions in the territory. The beach incident occurred near a hotel where many foreign journalists were staying and who witnessed the deaths of the children, reporting that there was no sign of militant activity in the area.
These cases will be investigated along three other incidents, the arrest of a 17-year-old in the Khuzaa region; the killing of a Palestinian woman who was shot dead by the IDF in Dahaniyeh after her exit from the conflict zone was coordinated with the Israeli troops; and the suspected looting of money from a house in Shejaiyah by a Golani Brigade soldier.
Efroni has ordered the military's investigative police unit to open 99 investigations into "Operation Protective Edge" in the territory. Forty-four of the cases are already under investigation by the IDF.
However, Efroni has decided against opening a number of investigations into other allegations of crimes committed by the Israeli military.
One includes an air strike on the Koareh family home in Khan Yunis which was fired during the 'knock on the roof' period with the family still inside their home.
Efroni also decided against ordering an investigation into the death of a local Gaza reporter killed by an air strike while travelling in a vehicle. The military prosecution said that the vehicle was struck because of intelligence that it held weapons and a terrorist.
The prosecutor is considering whether to open a probe into the air strike on the al-Batsh family home in Gaza City in which 18 members of the family were killed.
Elsewhere, United Nations Secretary-General Ban Ki-moon revealed that the global body is preparing to investigate the killing of its workers and targeting of its facilities by Israeli forces during the conflict.
He said that the probe would investigate "the killing and wounding of United Nations personnel and the destruction of its facilities and to hold accountable those responsible".
The investigation will be separate to that of the UN Human Rights Council, which voted to open a case into alleged Israeli war crimes in the Gaza Strip.
In the seven-week conflict, over 2,100 Palestinians - mostly civilians - lost their lives. All but five of the 68 Israeli fatalities were soldiers.
© Copyright IBTimes 2023. All rights reserved.